Australia

Shiraz

Zalto Denk'Art Champagne Glass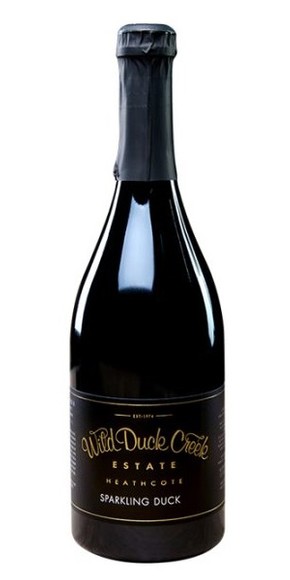 Delivery expected January 2024
A rare and highly complex wine made from estate grown Shiraz.
Sparkling Duck is a multi-vintage wine bottled to express an array of complex fruit characters and textures, from lovely primary fruit to earthy rounded fruit that only comes from long term barrel ageing. Every two years, Sparkling Duck is blended using two Sparkling base stock puncheons that have been developing over many years with two puncheons of younger Shiraz of Springflat quality. The two older barrels are then refilled using the blended wine, and the remainder is tiraged for secondary fermentation in bottle. The lees are left in bottle for 24 months prior to being disgorged. At disgorging, the wine is liquered using a small amount of our Fortified Duck for added complexity. Usually finishing at about 15.0% alcohol, Sparkling Duck is a wine fit for any celebration.
Wild Duck Creek Sparkling Duck Shiraz NV
Delivery expected Janaury 2024
David and Diana Anderson first planted vines in their family-run Heathcote estate Wild Duck Creek Estate in 1974. Today, the area under vine totals some 15 ha that are dedicated to Shiraz and Cabernet Sauvignon and has helped them achieve cult status in the eyes of many. Their first commercial release was in 1991 and things have only got better with the couple now joined by their son, Liam who is going full steam ahead with biodynamic practices in the vineyard.
In the winery, traditional winemaking techniques are the status quo, with winemakers David and Liam choosing to use open top fermenters, basket presses and the finest French barrels and American hogsheads for extended ageing. Produced only in exceptional years, the Reserve Shiraz uses fruit predominantly from the Original Vineyard that has been barrel aged and then selected for the final blend after extensive tasting. A blockbuster with high alcohol, its richness is seamlessly balanced by moderating acidity and ripe tannins, which prevent it from becoming syrupy. The Springflat Shiraz comes from a small 1ha site planted in 1988 that yields just over 20,000 bottles annually. After maturing in French and American oak barrels for a year or more, the wine is bottled unfiltered for maximum flavour expression that results in a deeply coloured, sweet-fruited red with an intense concentration and a long finish. Renowned American wine critic, Robert Parker regularly awards these wines 90 points or more.
Read less
In Bond
Welcome to our In Bond wine selection which shows wines available under bond only. Prices are marked as:
In Bond: Exclude UK Duty and VAT, and can either be delivered to a UK bonded warehouse in the UK, or released for international delivery.
Duty Paid: UK Duty @ £26.78 per 9 litres and VAT @ 20% has been paid.
Wines are only available in whole, unmixed cases unless otherwise stated.
In Bond Wine Storage* Important - Please Read *Storage charges are per 9 litre case per year; £11.95 ex VAT and inclusive of full insurance. All under bond wines are stored within London City Bond, Eton Park (formerly Vinotheque) in secure and temperature controlled storage facilities. To find out more about under bond storage with us, click here.
DeliveriesIn Bond (IB) wines can be stored, transferred to other bonded warehouses or released for international delivery.
Alternatively, use our home delivery service by simply switching to Duty Paid during the checkout. Duty, VAT and delivery charges will be applied.
International OrdersWe ship wines globally however, and for your ease, please contact our fine wine team who will assist you with delivery options: enquiries@thevinorium.co.uk
Your enquiry will be answered immediately (Monday – Friday 9:00am to 5:00pm)