Australia

Shiraz

ABV 14.7

Zalto Denk-Art Bordeaux Glass
Block 3C, Kalimna Vineyard is a very special site indeed. To many, perhaps the most hallowed, identifiable single block in Australia. The 3C component normally contributes to Penfolds Grange however, and when the block produces perfect fruit, Penfolds release Bin 170 which is an extremely rare wine. Released only for the second time in history, both the experimental Bin 170 made in 1973 and the second release in 2010 were sourced from Block 3C in the Kalimna Vineyard and released at $1,800 per bottle.
Previously, we have touched upon the magic of the Utopos vineyard and the reason why Kym has been longing to take this special site under his guardianship. The Cabernet Sauvignon was regularly used for Penfolds Bin 707 and now is selfishly kept for Utopos Cabernet Sauvignon and Cab / Shiraz blend, and for a fraction of the price…
Block 1 (as we released last year), now formally named 'Eutopos' is crafted around the oldest Shiraz planting on the Utopos site. A tiny one-acre block planted on a red clay and ironstone section of the vineyard in 1974 to the famous Kalimna 3C clone of Shiraz. Now, that's a secret worth keeping…
We pre-released both the '18 & '19 Block 1 / εutopos @ £255.00 IB per case of six (£53.67 all in). Kym has just released the '18 at $250.00 per bottle (circa £175.00) which is no wonder given the clonal heritage and the fashion of releasing uber-expensive prize winners. We cast our minds back to our Zoom call with Kym (Feb '22) when the discussion of both wines was first broached. Pricing, then, was lofty and I urged Kym to release to his UK market at a considerably reduced level (respecting the wines too). Kym is one of the most generous winemakers we work with and completely understood the situation. Accordingly, you all received an amazing offer – you still do! We paid the price, the wines are now in the UK and we stand by one of our mantras of not taking advantage. Another being to overdeliver on wine quality versus their respective sales price, which and in this case, is achieved admirably.
By sheer number of bottles sold (our first release being August 2020) to 23 January 2023, Utopos stands alongside Standish. You have purchased a staggering 7,706 bottles, circa 9 bottles per day, every day since the first launch, which I remember fondly. 28 August 2020 we released '17 and '18 Shiraz and sold 480 bottles in a staggering 36-hours. We launched the 2017 and 2018 Cabernet Sauvignon on 2 September 2020, with 240 bottles available to pre-order. This completely sold out within three hours.
2019 Utopos Block 1
2019 wines are brightly fruited and tightly wound with the tannins holding everything in as young wines. An additional 3% of Block 5 Cabernet Sauvignon expresses some complexing tobacco leaf and cigar box characters plus 2% Mataro enhancing the blue fruit and herbal notes. Matured for 20 months in 50% new very tight grained lightly toasted French oak (Allier forest) and 50% second use and then further matured in bottle almost 2 years before release. This wine is demanding of a few more years in the cellar before it will show its full expression.
2019 was very low yielding and very high quality. Below average winter rainfalls leading into 2019 combined with a warm (but not hot) growing and harvest season produced low yields of small berried very intense fruit with amazing structure. The cooler than average season protected aromatics and resulted in fresh, bright wines with good acidity.
98++ Points – Stuart McCloskey "The bouquet evokes mineral infused mulberry, damson, blueberry, licorice, cooling graphite, parma violets / violet pastille, menthol, a smidgeon of leather, sweet spices and a floral exoticness to round everything off. Time in the glass / decanter shows off the wine's pedigree. The palate is medium-to-full-bodied. The mouthfeel is both comforting and evocative. The silkiest tannins imaginable, gently wrap the fruit which is voluptuous, sweet and expansive - everything flows in cooling ribbons of silk. Blue and black fruits dominate with a floral pastille quality – a little crème de cassis and sweet, exotic spice. Overall, there's a sense of coolness, yet the fruit is sourced from warmer climes. Architecturally, this is built to perfect proportions. Incredible wine and difficult to find fault. This really does deserve 99 points, who am I kidding? Ideally, cellar for a further 5-10 years however it does drink well today to 2035+. Served using Zalto Bordeaux glassware and sampled over two days."
Utopos Block 1 Shiraz 2019 - In Bond
Barossa Valley, Australia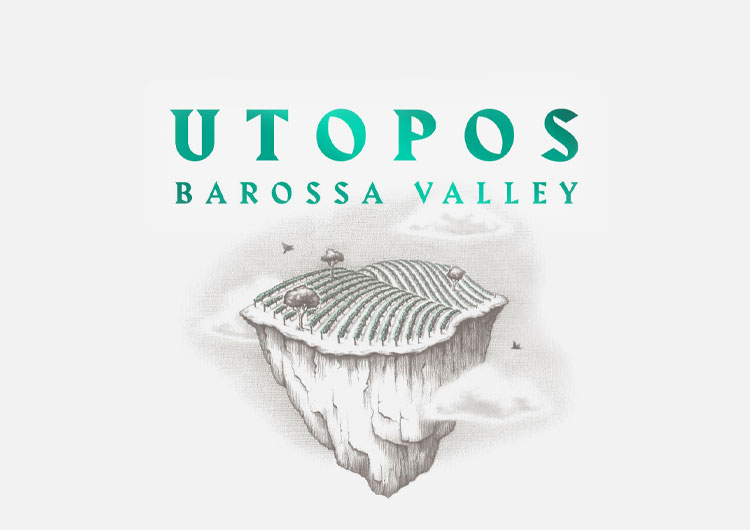 We were already sourcing fruit from vineyards adjacent to this property for Teusner that were making some of our very best Shiraz wines (Albert and Righteous) so I knew the ability of the geology and microclimate of the area to produce outstanding reds.
I instantly fell in love with the site and the way that it was planted. I so desperately wanted to play with the fruit that was growing here. However, the owner of the property was signed into pretty tight contracts with Penfolds and wasn't willing to jeopardise that to sell me a bit of out of contract. He did nothing to lessen my desire, however… Bragging to me that the cabernet sauvignon was some of the only Barossa fruit to make Bin 707 grade etc etc.
So I was forced to just dream about it every time I drove past to visit my other growers in the area. Until the day in late 2014 that the owners decided it was time to slow down and move into town and put the property up for Auction.
All of the big names from around the area were at the auction. Standing on one of the highest points of the area overlooking some of the most beautiful views in the Barossa. I was so desperate to have it – these properties rarely become available over multiple generations - so I just went in with all guns blazing and put in my best offer as first bid. It was the one and only bid and the property was ours!" - Kym Teusner
...

Read more

Read our Q&A with Kym Teusner - Read article

Read 'Tasting Utopia' - Read article

Read less
In Bond
Welcome to our In Bond wine selection which shows wines available under bond only. Prices are marked as:
In Bond: Exclude UK Duty and VAT, and can either be delivered to a UK bonded warehouse in the UK, or released for international delivery.
Duty Paid: UK Duty @ £26.78 per 9 litres and VAT @ 20% has been paid.
Wines are only available in whole, unmixed cases unless otherwise stated.
In Bond Wine Storage* Important - Please Read *Storage charges are per 9 litre case per year; £11.95 ex VAT and inclusive of full insurance. All under bond wines are stored within London City Bond, Eton Park (formerly Vinotheque) in secure and temperature controlled storage facilities. To find out more about under bond storage with us, click here.
DeliveriesIn Bond (IB) wines can be stored, transferred to other bonded warehouses or released for international delivery.
Alternatively, use our home delivery service by simply switching to Duty Paid during the checkout. Duty, VAT and delivery charges will be applied.
International OrdersWe ship wines globally however, and for your ease, please contact our fine wine team who will assist you with delivery options: enquiries@thevinorium.co.uk
Your enquiry will be answered immediately (Monday – Friday 9:00am to 5:00pm)