Australia

Pinot Noir

ABV 13

Zalto Denk'Art Burgundy Glass
Gary Walsh (The Wine Front) "Butcher's Hill is the vineyard that has some limestone over sandstone, as opposed to Cooinda with the sandy loam over sandstone. Sandy Loam would be a nice name for someone, I think. Sweet dark raspberry and black cherry, exotic spices, subtle earthiness, dried roses. Medium-bodied, rich and silky tannin, a little sap and tang, but a core of plump red fruit with a distinct minerally thing going on, and a finish that's bright and long, with some dried herb and peel seasoning. More perky, less deep this season, but shows the site to good effect."
The 2018 vintage was slightly warmer than the long-term average leading to rich and complex fruit coming from the Butcher's Hill Vines. A layered nose of red plum, ripe cherry, black raspberry, charred wood, cedar spice and light smokey finish. A burst of freshness across the palate with wild raspberry and baking spice showing through, leading onto a light earthy note and fresh cracked pepper. An excellent tannin structure and balanced acid gives a long and rewarding finish.
Pooley Wines Butchers Hill Pinot Noir 2018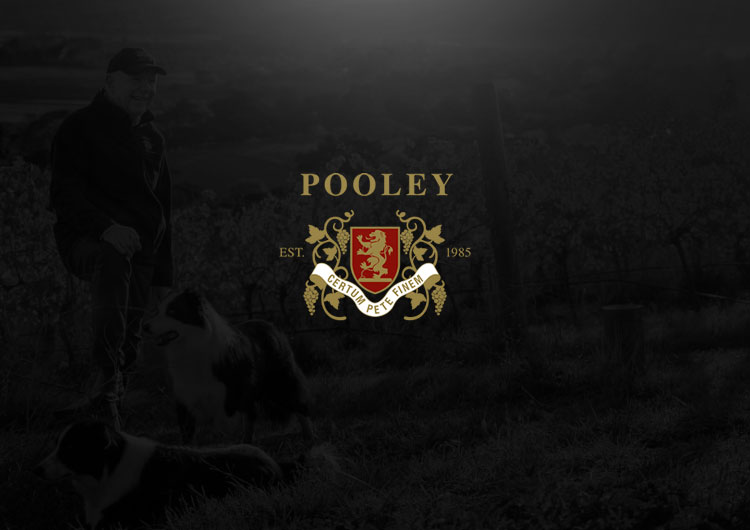 Pooley Wines are truly special and one of the leading family-owned wineries in Tasmania. They are recognised as one of the foremost producers of premium cool climate wines (not only in Tasmania, but in Australasia) winning over 100 awards since Margaret Pooley's first vintage in 1988. Members of the Pooley family have been actively involved in the business for three generations with their longstanding passion and commitment to fine wine being your assurance of uncompromising quality. Pooley Wines are renowned for their exquisite Single Vineyard examples of Pinot Noir, Chardonnay and Riesling. Their Cooinda Vale Chardonnay once formed an integral component of the famous Yattarna Chardonnay from Penfolds. Their Butcher's Hill Chardonnay is another beauty and similarly, the fruit from this block was also once used for Penfolds Yattarna Chardonnay… Pooley's Pinot Noirs are pure, impeccably balanced, crystalline and eminently cellar worthy.
Read less
In Bond
Welcome to our In Bond wine selection which shows wines available under bond only. Prices are marked as:
In Bond: Exclude UK Duty and VAT, and can either be delivered to a UK bonded warehouse in the UK, or released for international delivery.
Duty Paid: UK Duty @ £26.78 per 9 litres and VAT @ 20% has been paid.
Wines are only available in whole, unmixed cases unless otherwise stated.
In Bond Wine Storage* Important - Please Read *Storage charges are per 9 litre case per year; £11.95 ex VAT and inclusive of full insurance. All under bond wines are stored within London City Bond, Eton Park (formerly Vinotheque) in secure and temperature controlled storage facilities. To find out more about under bond storage with us, click here.
DeliveriesIn Bond (IB) wines can be stored, transferred to other bonded warehouses or released for international delivery.
Alternatively, use our home delivery service by simply switching to Duty Paid during the checkout. Duty, VAT and delivery charges will be applied.
International OrdersWe ship wines globally however, and for your ease, please contact our fine wine team who will assist you with delivery options: enquiries@thevinorium.co.uk
Your enquiry will be answered immediately (Monday – Friday 9:00am to 5:00pm)