Australia

Malbec

ABV 13.7

Zalto Denk'Art Bordeaux Glass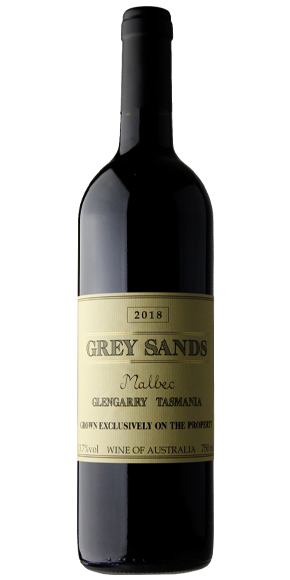 97+ Points - Stuart McCloskey "My first Tassie Malbec and what a fabulous debut. The bouquet is deeply serious with savoury and oceanic aromatics from sea kelp, oyster shell (an overwhelming sense of marine) leading to pen ink and violet. There is lovely ripeness and brisk acidity, translating into a powerful but fresh wine. There is some fruit opulence with deep plum leading to an assortment of black fruits. There's a little fresh pencil shaving, violet, blueberry and a wealth of minerals… It's compact in stature, concentrated and balanced perfectly. Tannins in abundance, but these are ripe and work wonders with the fruit. To summarise, one of the most enjoyable Malbecs I have sampled for a long time with hidden power and concentration. The flavours last forever and I love the salinity on the finish. A serious Malbec which will last 10-15 years in the cellar. Decant for 2-4 hours and best served using Zalto Bordeaux glassware"
Bob and Rita Richter bought the Grey Sands vineyard back in the 80s, following a tour of the European wine regions where they were inspired to try growing grapes in the coolest part of Australia. This was back before the internet and never having visited Tasmania, they were forced to research their choice using the one book about Australia in their local library!
Based in the Tamar Valley, in a scenic location just a short drive from the beach, they began by planting Pinot Gris and Merlot whilst the local industry were focusing on Chardonnay and Pinot Noir. Bob was convinced, from his time in Europe, that there were many alternative varieties which would thrive in Tasmania and we have to agree with that. Stu declared the 2018 Pinot Gris "without doubt the best new world Pinot Gris to have ever passed my lips."
Read less
In Bond
Welcome to our In Bond wine selection which shows wines available under bond only. Prices are marked as:
In Bond: Exclude UK Duty and VAT, and can either be delivered to a UK bonded warehouse in the UK, or released for international delivery.
Duty Paid: UK Duty @ £26.78 per 9 litres and VAT @ 20% has been paid.
Wines are only available in whole, unmixed cases unless otherwise stated.
In Bond Wine Storage* Important - Please Read *Storage charges are per 9 litre case per year; £11.95 ex VAT and inclusive of full insurance. All under bond wines are stored within London City Bond, Eton Park (formerly Vinotheque) in secure and temperature controlled storage facilities. To find out more about under bond storage with us, click here.
DeliveriesIn Bond (IB) wines can be stored, transferred to other bonded warehouses or released for international delivery.
Alternatively, use our home delivery service by simply switching to Duty Paid during the checkout. Duty, VAT and delivery charges will be applied.
International OrdersWe ship wines globally however, and for your ease, please contact our fine wine team who will assist you with delivery options: enquiries@thevinorium.co.uk
Your enquiry will be answered immediately (Monday – Friday 9:00am to 5:00pm)