An Amazing Opportunity to Purchase the
2014 Jimmy Watson Winner:
Ask any Aussie winemaker if they would take a 100-points from a renowned critic or the Jimmy Watson Memorial Trophy. Unquestionably, the Jimmy Watson would receive every vote. Granted, 100-points is a huge tribute however, it's here today and gone tomorrow whereas, the Jimmy Watson stays for life. It is the one award, the pinnacle in the Aussie wine industry and embodiment of excellence that every winery dreams of winning.
"Soon after picking this fruit I knew the resulting wine was going to be special - I'm even quoted in an article stating I thought it was a chance for the Watson! I couldn't wait to release it and as I look back now, the release of this wine marked a pivotal moment in our lives, a stroke of good fortune that established everything that we have today."
- Stephen Pannell
Established in 1962 in honour of the late Jimmy Watson, this trophy was previously awarded to some of the most recognisable names in the Australian wine industry, including Wolf Blass, Penfolds, Hardy's, Wynns, Cape Mentelle and our very own Nick Glaezter-Dixon who won in 2011 (Mon Père Shiraz 2010).
We are thrilled to bring Stephen's 2013 Syrah to you all – the wines have remained under guard, in perfect condition and are now presented in a smart custom 3-pack.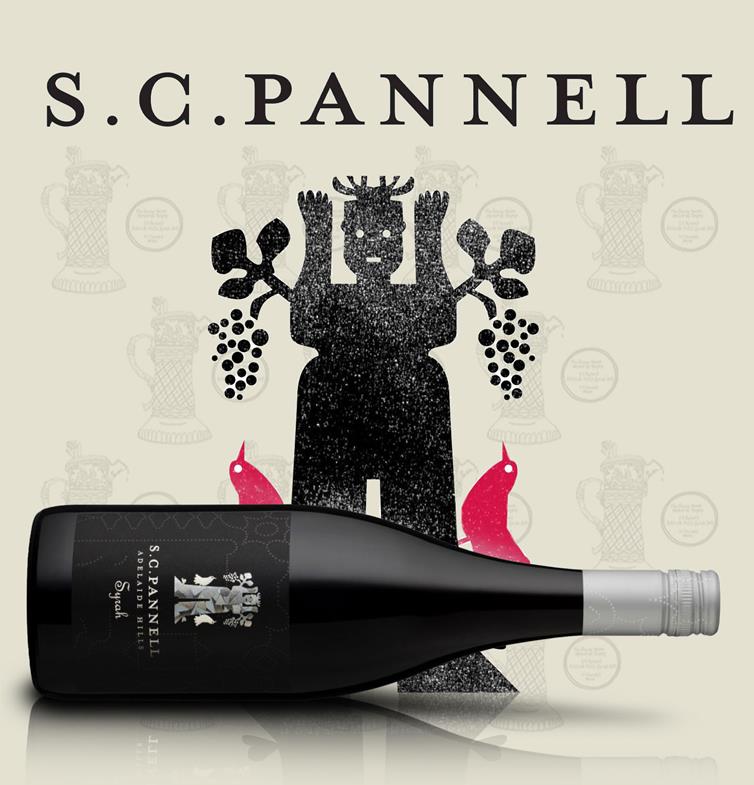 £144.00 per case (3x75cl) under bond
£182.50 per case (3x75cl) delivered
Presented in a smart custom 3-pack
Stephen Pannell and wife Fiona Lindquist from SC Pannell with the Jimmy Watson memorial trophy they won for their the Adelaide Hills 2013 Syrah.
All notes provided by Stephen…
Flavour: "Aromas of cassis, fenugreek, charcuterie and tapenade are all consistent with nine years of bottle age. However, the surprise is in the abundance of fruit aromas: blackberry, blueberry and pomegranate followed by spices: Kampot pepper, red cedar and frankincense. Revealed with a little air is sea spray, petrichor, crushed rocks and roasted red capsicum. A viscous nose that wavers from black fruits to blue. The palate is more youthful than the nose with dark chocolate, clove, cinnamon, satsuma plum, lavender, rhubarb and preserved citrus."
Texture: "Pure silk on entry with tannins that yawn, stretch and unwind as they progress across the palate. The texture and flavours meld like a Chesterfield on a blue slate floor with a vibrancy that belies its age. The long finish delivers another round of flavours and texture wavering between earth, spice and dark fruit. Power with delicacy and proof that Shiraz belongs in Australia, especially in cooler climates."
Cellaring: "I knew this wine would keep well and reserving some stock for a future release is always very exciting. Wonderful now but I'll be keeping a few bottles for a celebration in 2026 and suggest you do the same."
S.C. Pannell Wines is a small, family-owned winery founded in 2004 by Stephen Pannell and his wife Fiona Lindquist. The winery was realised to focus on Stephen's passion for the McLaren Vale and Adelaide Hills region and its ability to produce dry - grown and environmentally sustainable Shiraz and Grenache. Pannell wanted to make wines from the region that expresses their sense of place. His intimate knowledge of the region's vineyards and neighbouring sub-regional differences was gained during his time as Chief Red Winemaker at Hardy's and since establishing his own winery he has been able to secure exquisite parcels of old vine Grenache and Shiraz from low yielding, dry grown fruit sources. This is the second Jimmy Watson Trophy win for Pannell who won the award in 1996 for the Eileen Hardy Shiraz 1995.