Sadly, Andelmonde is missing for the second vintage in a row. Clearly, Dan is obsessive and pursues greatness, regardless of the commercial downturn. The balance is fascinating and I often wonder what I would do if I were in his wine stained shoes.
Year-on-year, demand for Standish wines continues to surge with trade and private customers wanting more, and often more than production / allocations allow. This is a great position to be in particularly given that Dan immediately sells out to all his global agents and his own list of clients. Unlike much of the winemaking world, Dan and Nicole do not actively court the opinion of the wine press or wine shows which fascinates the heck out of me. I like it (very much) as I believe far too many winemakers are obsessed with seeking adulation from the world's press rather than allowing their devotees to vote with their wallets.
Despite Dan not sending samples to any judge or critic, which may also answer your many questions as to why Halliday does not score his wines (essentially, they need to visit the winery), Aussie critic Nick Stock (James Suckling.com) is regularly releasing a string of Australian reports and tasting notes. As previously documented, the 2018 The Schubert Theorem received the perfect 100 point score and was declared Australian Wine of the Year. The 2019 received another glowing review and 99 points with demand immediately spiralling – We received contact from every wine broker wishing to offer this wine to their clients.
Joe Czerwinski has recently been named the Editor-in-Chief of Robert Parker Wine Advocate, replacing Lisa Perrotti-Brown MW, who helmed the publication for eight years. The publication has been a longstanding fan of Standish Wines with many vintages receiving anywhere from 97 to 100 points, placing them firmly in the top echelon of great, global wine making.
2020 Yields – kind words supplied by Dan…
"Not too many bottles from 2020 I'm afraid. Granted, we do try to grow grapes in the middle of a desert but the incredibly dry growing season we were dealt in the lead up to harvest 2020 was next-level parched. With no Winter, Spring or Summer rain to speak of, our old vines gave us the tiniest berries we have ever seen at super-low yields, below 50% of average. This translated to super concentrated wines with extraordinary colour and tannin with a silky smooth almost creamy texture. One could almost say that these 2020 wines are caricatures of their respective vineyard plots, which will easily live beyond 25 years."
A word or two on pricing…
Relatively speaking, Standish wines are undervalued, and increasingly so with each annual release. The clamour for Lamella is extraordinary and it is now confirmed as one of Australia's most collected wines (if you can purchase it!). You would be flabbergasted if we shared how many bottles we shipped back to Australia. Demand on the secondary market is strong with the 2018 selling at around £900 for a six-pack. The '18 The Schubert Theorem is well ahead of its pre-arrival price (£318.50) with the cheapest price being advertised at £560 per case of six – a 75% gain in two vintages.
The global 2020 collection release is scheduled for 5 May – pricing has increased to all global agents by a modest 8% however, Dan has kindly met us in the middle and agreed to keep our increase to a minimum which we are extremely grateful for. We have agreed to pay the full increase for the '21 collection.
Yet, and quite unbelievably, Standish wines are a comparative 'bargain' when likened to other Aussie wines. Infinitely 'cheap' when compared to the USA, the 'top' Rhône, Bordeaux or Burgundy (price versus critic score ratio). We have omitted Penfolds wines as they were priced to satisfy China's insatiable demand. Penfolds produces truly great wines and I do hope their prices retract although, this would be a PR disaster and one, I am sure they are unwilling to take.
Release prices per bottle
• Hentley Farm – Clos Otto $220 / H-Block $175
• Torbreck – Run Rig $300 / The Laird $800 / The Factor $125
• Clarendon Hills – Astralis $370
• Henschke – Mount Edelstone $225 / Hill of Grace $890
• Yalumba – The Caley $380 / Octavius $150
• Two Hands – Ares / Aphrodite $137
• Greenock Creek - Roennfeldt Road Cabernet Sauvignon
and Shiraz $280
• Grant Burge – Meshach $230 / Shadrach $115
• John Duval – Eligo $130 / Integro $220
Whether you choose to include critics' scores or not – attempt to highlight one of the aforementioned wines which is consistently better than Standish. We cannot. Some (respectfully) do not even come close, yet they sell for more! Moreover, this was a quick five-minute exercise – we could triple the list if we spent a little more time researching…
For the past few years, I have openly stated that Standish wines will be more expensive to purchase and rightly so. Why Dan does not sell for around $250 / $300 is beyond me but let's keep this a little secret for now…. Give it a few years and we will be on-par, I'm sure.
To quote Dan, "Not too many bottles from 2020 I'm afraid." However, and unlike last year, we are releasing the '20 Lamella to our entire customer base on a first-come-first-served basis. But, we are tying each case with a corresponding case of either The Relic or The Standish as I would need my vinous head testing if I released one of Australia's most sought after wines without a higher price or asking customers to show a little 'Standish' loyalty. We are releasing the vast majority of our Lamella allocation on our pre-arrival offer – a tiny proportion will be held back for our in-house 2020 collection case.
Unlike last year, the exchange rate is currently tipped in our favour. Granted, shipping has increased by over 130% and shipments out of Adelaide are impossible. Dan and I are splitting the additional cost of $1,200 and shipping ex-Melbourne however, we are releasing the 2020 collection at £5.00 per six-pack cheaper than the 2019. We are selling Lamella for our full, list price, albeit vastly cheaper than any price you will find in the market.
Shipment and arrival dates
Currently, our order leaves Melbourne on 1 March 2022 with an ETA into our London Gateway for 14 April. However, and this is a big 'however,' I would add at least four weeks onto this as Australia is suffering from a series of missed sailing dates and ETAs into any global port, are optimistic dates, at best. As ever, we will keep you posted with exact dates as soon as we receive the same.
How long does our pre-arrival campaign run?
From 12:00 noon on 4 February to 12:00 noon 18 February. No pre-order prices will be offered after these dates…
Delivery / transfer / storage fees
Please select the IB option when purchasing 2020 Standish wines if you wish to store your wines under bond and we will arrange the relevant storage charges or an under bond transfer once the wines are landed.
Please select the DP option if you would like your 2020 Standish order to be delivered and we will arrange the relevant delivery charges once the wines are landed. All deliveries will be insured and made directly from London City Bond.
The 2020 Standish Collection
98-100 Points - Stuart McCloskey "Unfurling at a glacial pace - my note arrives after three days in the decanter (without any signs of oxidation), which provides an insight into the wine's sheer concentration. Glass-staining beetroot red journeys to a core of midnight black. The bouquet interests the heck out of me – potency juxtaposed with a sense of unerring restraint, which is an artform. Savoury at first, and brooding. Cooling graphite, coal and coconut provide lift before the wonderfully heady aromas of mulberry, blackcurrant pastille, creme de mûre, black raspberry, violet and dark, bitter chocolate arrive, star anise too. A wonderfully, exotic and sensational perfume which keeps you hooked. Make no mistake, this is a towering wine, but perfectly proportioned with a masterful touch. Texturally, Lamella is one of those wines that delivers immediate impact, the quality indisputable. The flavours run deep, as deep as the ocean and quite honestly are difficult to convey. Concentrated dark berries, crème de cassis, mulberry and blueberry liquor flood the palate. Mid-palate provides relief from the richness – bitter chocolate, wild herbs and liquorice. I sense bitter orange zest – Negroni-esque which spikes even more intrigue. Acidity provides freshness and lift. Structurally, this is rock-solid with firm, grippy tannins. The complexity and animation of this wine is simply jaw-dropping. Alas, this is one for the cellar and will be drinking from 2032 to 2050+. If you cannot resist, decant for at least 48 hours. Served using Zalto Bordeaux glassware."
Dan Standish "Complex and multi layered, Ink, mulberries, violets, heady gunpowder and chocolate aromas, spice and lifted dark red fruits with coffee and tightly woven chalky tannins."
The Schubert Theorem 2020
98-100 Points - Stuart McCloskey "Even after 72 hours in the decanter, the bouquet is a tough kitten to crack, or I do not possess the vocabulary to deliver justice. Insanely black in colour with an aubergine rim. Blackcurrant pastille, the darkest liquorice, black olive, exotic, sweet spice, crème de mûre, cassis, the minerality is smoke-tinged, chocolate (90% types), spiced fruitcake, star anise, espresso and layer-upon-layer of cooling graphite. Similar to the Lamella, this is a skyscraper of a wine with the structural mass and integrity to keep going for at least thirty years. It will need at least a decade to show some evolution – 15-20 years is more likely. Extraordinarily deep – bottomless to be specific, yet full of energy. Yet again, I am drawn to the suave, velvet-like feel of the Schubert Theorem. The richness and power are simply breathtaking as is its gracefulness, which sounds daft given the wines density and concentration. The dark, exotic flavours pulse across the palate along with chocolate, espresso and a smidgen of leather. I love the violet pastille, spice-cake and savoury herbs. The finish is, well, endless but flows to the tune of blood orange… The depth of the fruit shapes the wine whilst the firm tannins provide the framework. The most structured Schubert Theorem I have ever sampled. Served using Zalto Bordeaux glassware."
100% Shiraz - Sourced from various sections of the Schubert Family Vineyard – Roennfeldt Road, Marananga. Planted on own roots between 1994 & 1999 (12ft x 8ft spacing). Deep red/brown earths with eroded protrusions of crystalline quartz and mica-schist between 272-296m above sea level.
Dan Standish "Rich and smooth, dark and brooding, exotic five spice, graphite and blue fruits. Robust, building palate reinforced by solid red fruit structure. Firmly packed in flavours, vibrant and multifaceted."
£375.00 IB per case
*The landed price post 18 February
£400.00 IB per case of six
Standish The Standish 2020
99-100 Points - Stuart McCloskey "The Standish was noticeably more approachable (48 hours in the decanter) and reminds me a little of the 2019, albeit with a touch more charge. The bouquet is mesmerising and delivers an intoxicating mix of saturated black and blue pastille fruits, crème de mûre, mulberry, Indian ink, violet and lavender. There's a noticeable brininess overtone to all the fruit. Sea kelp and graphite are a marriage made in heaven… The palate glides like silk – not a hair out of place. The unerring sense of purity and sensuality is overwhelming. Exquisite, in a word. My notes are flowing with more ease suggesting accessibility. That said, this still needs 5-8 years and will be at its best in 20-25 years. Full-bodied, supremely balanced - tannins are firming. The fruit is wonderfully pure, luscious, extravagant and provides a wonderful rich lacquer-feel inside of the mouth. This is an incredible release and I can sense my tasting note is gaining pace – bewildering. Polished, dark fruits in abundance, cloaked with saline, graphite, licorice and mocha. Wonderfully intense and decadent. The finish is never-ending and keeps giving. Dried, blood orange after minutes… Bloody amazing. Truly, so. Served using Zalto Bordeaux glassware."
Laycock Family Vineyard, Parbs Road, Greenock - 100% Shiraz. Planted on own roots in 2002 (5.39 Hectare – 9ft x 6ft spacing). Ironstone gravels and layered schist on a bedrock of solid ironstone at 314m above sea level. With its easterly aspect protecting it from the harsh western afternoon sun and the gentle sloped gravels draining away any untimely excess rainfall. Bedded deep on their own roots in fragmented ironstone and layered schist this Shiraz clone is in its element.
Dan Standish "Darker red fruit spectrum – red liquorice, raspberries and pomegranate. Christmas spice and mocha, structured firming mouthfeel. Finishes with a freshness and taught completeness."
£375.00 IB per case
*The landed price post 18 February
£400.00 IB per case of six
98-100 Points - Stuart McCloskey "The sweetest and most delectable Relic I have sampled, and by far, the plushest out of the quartet. The bouquet is hypnotically calming and flows to the tune of menthol, graphite and Indian ink. The fruit is pastille-like, dense and supremely ripe. Wonderfully floral - Mediterranean herbs too. Brooding qualities – almost a sense of shyness. However, the palate delivers a sweet symphony of black raspberry, blue and blackberry fruits that have a distinct mineral tone to them. Redcurrant tartness, wild herbs (sage and dried mint), lavender and espresso provide a point of contrast to the richness. The satiny texture is heavenly. I enjoy the savouriness, the purity is beguiling and the glossy, almost viscous-waxy coating appeals. In short, this is superb (even at this stage). This is next-level, world class Shiraz (let's be honest, they all are). Glory be… Decanted for 72-hours and sampled daily. 48 to 72 hours being the sweet spot. Served using Zalto Bordeaux glassware. Drink now (ideally wait 5 years) to 2050."
Hongell Family Vineyard, Krondorf. Planted on own roots in 1991. Clay Loam over weathered bedrock with intermittent bands of quartz. Shiraz grown in this part of the Barossa tends to be very aggressively tannic. We planted a single row of Viognier alongside the Shiraz which is picked altogether on the same morning. The co-fermentation of even a tiny amount of Viognier not only adds heady aromatics to the mix but also softens the otherwise firm tannins.
Dan Standish "Opulent jasmine & lavender notes with hints of peach and rosemary. Vibrant, fleshy, crisp and crunchy in the mouth, butter and menthol with lingering subtle powdery tannin."
£375.00 IB per case
*The landed price post 18 February
£400.00 IB per case of six
2020 - Special Four Pack
1 x 2020 Standish Lamella
1 x 2020 Standish The Schubert Theorem
1 x 2020 Standish The Standish
1 x 2020 Standish The Relic
Pre-Arrival Four Pack Price @ £315.95
Landed Price @ £331.80
* Only 24 x cases available *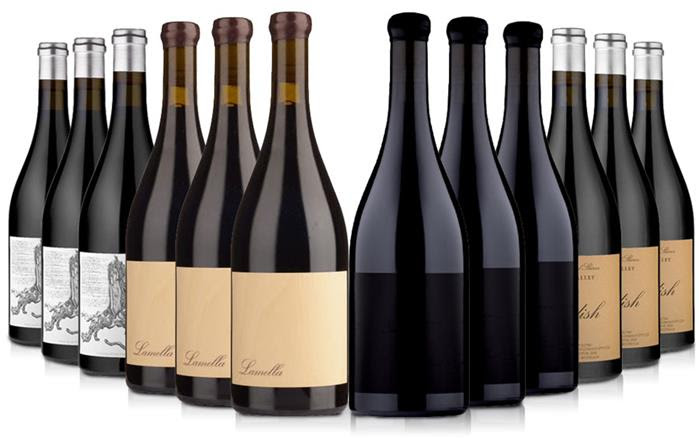 2020 - Special Twelve Pack
3 x 2020 Standish Lamella
3 x 2020 Standish The Schubert Theorem
3 x 2020 Standish The Standish
3 x 2020 Standish The Relic
Pre-Arrival Twelve Pack Price @ £947.85
Landed Price @ £995.40
* Only 12 x cases available *
My final thoughts...
In many ways, our annual Standish launch reminds me of my Bordeaux En-Primeur old days, before it lost its charm. The year was 2006, and I reminisce visiting a little known fifth-growth property in the appellation of Pauillac to sample their 2005 vintage. The property was certainly off the radar from major collectors / buyers and investors. Yet, Château Pontet Canet triumphed by producing one of the wines of the vintage – it was utterly spectacular and rose above its reputation.
Upon my return, I informed all my customers that 'this' is the wine to buy this year – be brave and trust me, which they did. I purchased several hundred cases which I sold at £495.00 per dozen. The rest is history, as they say, and my enormous allocation remained for each annual release. Quickly, Château Pontet Canet became one of the 'must-buys' as critics' adulations and scores catapulted this once lowly Château into stardom. Today, it remains at Fifth-Growth however, and after many 100-point releases, it's no longer released at £495.00…
The Standish Wine Co. has been respected for many years – I believe local winemakers and studious buyers knew the day would come when Standish wines would stand at the top of Australia's pecking order, which I feel it has justifiably reached. I accept that Australia produces a string of great, annual releases however, it is the consistency of greatness that I love about Standish – they are not one-off successes. They are brilliant year-on-year. In fact, I believe Dan is yet to hit his pinnacle – perhaps 2021 is the year as I know it's a special vintage.
Like, Pontet Canet, I believe prices will inevitably increase, and quite considerably. Alfred Tesseron took the decision to sell his wine in line with many of Bordeaux 'top' wines and rightly so – the annual quality and critical acclaim justified Alfred's position, and he's never looked back.
We have sold a snip under £1 million of Standish wines (2017 to 2019) with demand increasing year-on-year. Standish is the most requested, searched and purchased wine from new customers (both domestic and international). The trade is hungry and continue to commit to their allocation each year – we now sell as much to the trade (on the same pre-arrival basis) as we do to private customers.
I wonder when Standish will be selling above $200 per bottle? Today, we are all purchasing one of Australia's very best wines for a real bargain…
Too impatient to wait for the 2020 vintage?
Shop our current stocks of Standish wines
for immediate delivery