The All New
Vinorium Website
After a full twelve months of development, we are finally ready to launch our brand-new website. Special mention must go to Natalie and Michelle who have worked tirelessly on every aspect. Testing alone has been daily and has taken close to three months, which I have no patience for – what would I do without them. James has worked his artistic magic and has also been an extra pair of eyes for when the girls can't see the wood for the trees.
I must also thank the development team, Venditan who have really got stuck into this project. They work with some 'big' names including my favourite cycle store, Sigma Sports. Everyone has worked super hard to retain everything we know you love about the old site on this completely new build.
Our new website is a huge financial investment, essentially costing the equivalent to five pallets (2,880 bottles) of 2020 Standish, yet the investment is an essential one, as almost all our business now comes through E-commerce, and this is also where we foresee the growth coming from in the future. Without E-commerce, we would have 3 to 5 times the staff numbers (salespeople on the road) which would reduce our profitability enormously. We have finalised our full accounts for the year ended December 2021, which yielded gross profits of £1.7 million (operating profit of £1.1 million). For many, our Profit Share / Wine Investment Scheme has come full circle with £727,260 being returned to customers during 2021.
Much of our profits have been redirected into stock, the development of our new HQ (we have spent close to £500,000 in the past 18 months) and now our new E-commerce platform. That said, 2021 was a very hard year, the hardest we have faced in five years. The pandemic has caused untold problems with shipping and the issues with Brexit are best left unspoken. The horrific war in Ukraine has added a further layer to cost increases, which is selfish to write. Clearly, some suppliers see this as a means to increase prices (packaging has increased by 50% in 12 months) – fuel prices have rocketed with surcharges increasing by the day. For us, the biggest impact is the FX market – the GBP has plummeted (and continues to fall) against the Aussie dollar.
Thankfully, our stocks are substantial, however, we now need to focus on increasing sales, and promptly. To that end, the independent wine shops (some 900) across the UK will provide an enormous new market for The Vinorium and our aim is to use the functionality of the new website to provide this market with a service that the wine industry has not been able to offer before. Essentially, we'll be offering a 'private customer' experience to independent retailers. Allowing them around the clock access to our available stocks, the ability to pick and mix by the bottle or case, no minimum order, receive immediate confirmation of their orders and next day delivery. Often, you wait days for the rep to even respond to your request!
Over the next few weeks all existing Vinorium customers (see point 1 in our know-how guide below) will automatically see their online accounts upgraded, free of charge to member status. This will provide you with members' pricing on all our exclusive wines, allocations of pre-launches (Standish / Utopos etc), sale, special parcels and exclusive content. Please note that there have been no changes to pricing at this time. New customers will have the opportunity to pay for membership too at a reasonable one off price of £30.00. Membership is not compulsory however, they will be paying at least 10% more than members. The discount on a six pack of Standish will not only pay for lifetime membership, but save them a few bob at the checkout too.
The new platform is a bespoke build which allows the team to manage the functions of the business in one place. The front end of the website, where you will be able to browse the range, read our articles and shop is obviously of vital importance but it also provides us with a powerful stock management system. Furthermore, the direct integration to our financial system is invaluable and saves enormous amounts of time and funds. I believe, we can double the size of our operation with only 2-3 new members of staff. We have also future-proofed ourselves from the functionality and management of operating our own bonded warehouse (more to come next week) and the ability to sell wines in multiple currencies, which will be operational when we set up The Vinorium EU next year.
As with all new implementations, our new E-commerce platform will continue to be a work in progress. In fact, and now we have such a great development team onboard, I am convinced we will be redeveloping aspects of the site on an ongoing basis / upgrading / adding new and exciting features. So, the journey has only begun… It's certainly going to be an exciting few years ahead (I will be unveiling full plans of our new HQ next week).
As ever, I thank you for your continued support. Please keep safe and well and I look forward to 'physically' welcoming to you to our new home, summer 2023.
Cheers,
Stu
Your know-how guide to our website
We strongly suggest you keep this for future reference – by all means skip my introduction above but do not skip the pointers below…
Before we explore the dynamics (both from a front end and back end perspective) we thought it prudent to highlight key points as early as possible.
Ignore at your peril!
1. Currently, we have well over 3,500 registered 'private' users on our website however, these are classified as 'followers' and 'customers'. In short, the latter group of 'customers' physically support The Vinorium by way of buying wine from us. The former are most welcome to peruse at their leisure however, and here's the important part – ONLY customers will have access to their own cellar tracker and (in the coming few weeks) to members prices, pre-arrival offers, special parcels, sales, etc. etc.
2. All existing 'customers' will find an account already set up on the new website. Please proceed to the log in page of the website and use the 'forgot your password' link. Once you have reset your password, you will be able to access the 'My Account' area of the website. This is very much a work in progress as we have huge plans to develop this important aspect. If your email is not recognised, please go ahead and create a new account or checkout as a guest. Please note that your order history from the previous website will not be accessible on the new site, however any wines stored with us will be listed in your 'My Cellar' page.
3. Storage Invoices: Storage invoices will be auto-generated every six months, in January and July, for all wines sitting within your customer cellar. Any additional wines purchased will have a pro-rata storage fee added at checkout to pay up until the next invoicing date. We believe this will streamline the entire process for both you and Team Vinorium. Moreover, this will allow for greater flexibility and visibility for any bottles / cases you decide to keep in storage. Again, everything is visible in 'my account.'
4. Checkout: We have simplified and streamlined our checkout process. Simplicity being the key. Continue to purchase wines 'under bond' and 'by the bottle' all in one transaction. Our new checkout separates these purchases for you to make it super clear where your wine is and how it will be delivered or stored. If you add a mixture of bottles from our HQ stocks (duty paid) and cases from the bond (under bond) you will now see these in separate baskets when you arrive at our new checkout. This should make it super clear if you need to spend a little extra to qualify for free delivery for HQ stocks. It will also confirm the delivery or storage charges and allow you to view and select the options available for specific stocks.
5. American Express: There has been a slight delay setting up the checkout to process payments via Amex. This is being rushed through and will be fully functional by Monday at the lastest.
Our brand new, redesigned home page will continue to be updated with new arrivals, special offers, top picks and highlights from the range.
Our new Producer pages provide in depth details about each of the producers in our portfolio.
Every producer has their own set of pages which include not only all of the available wines to order but new pages providing details about the who they are and what they do, their location and their history.
You will also find links to our catalogue of articles about each producer including previous interviews.
The Media tab also contains images and videos which are a fantastic way to learn more about the winemakers we work with and see how and where the bottles you can buy are produced.
We've re-worked the layout of our listing pages to make browsing the vast collection easier. You'll find a row of filters across the top of each page which enable you to narrow your selection by useful parameters such as price, producer, variety, vintage and region.
Our product pages have also undergone an upgrade. We've attempted to simplify the buying options for our wines which are available both in bond and duty paid. You can still buy 'by the bottle' from all of our HQ stocks but you can also now see if the same wine is available from the bond within the same page.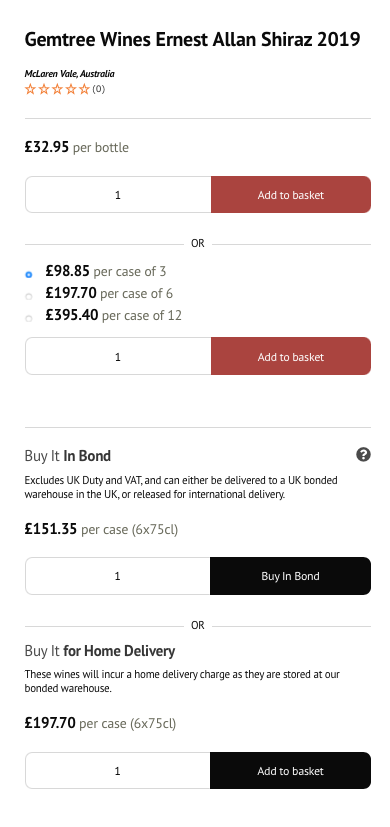 We have a new 'favourites' function, simply hit the little heart by all of the wines you love and these will be listed within your online account. You can use this as a wish list to plan your orders or as a place to easily find your favourite bottles to reorder.
You will also start receiving additional emails a couple of weeks after you buy wine from us asking for you to complete a quick review of your wines. These will automatically be uploaded to the website creating a bank of customer reviews which should provide additional insight and opinion on the wine to help with buying decisions.
Your own customer account page will become an invaluable source of information. Not only are all of your contact and delivery details stored here but it will also work as your first point of call for details of the wines you have previously ordered from us.
This area of your account page will show all of your wines in storage with us. Both wines stored under bond and duty paid wines stored at our HQ will be listed here and available 24/7 for you to see.
We're also changing the way in which you will pay for storage as we're finding this is becoming an increasingly popular service for many of our customers. Storage invoices will be auto-generated every six months, in January and July, for all wines sitting within your customer cellar. Any additional wines purchased will have a pro-rata storage fee added at checkout to pay up until the next invoicing date. We hope this will streamline this process for both you and Team Vinorium and allow greater flexibility and visibility for any bottles you decide to keep in storage.
All orders placed on the new site, will be listed here but unfortunately, orders placed on the old website will not be able to be viewed here. If you have previously purchased wines to store, you will be able to view these in the 'My Cellar' section. You'll also be able to find the tasting notes and information on all of the wines you have bought before.
This is where all of the wines you have 'added to favourites' will be listed with a quick and simple button to use whenever you are ready to order these bottles.
We've also simplified and streamlined our checkout to make it even easier and quicker to buy your wines. You can still purchase in bond and 'by the bottle' wines all in one transaction but our new checkout separates these purchases for you to make it super clear where your wine is and how it will be stored or delivered.