We are almost at the half-year mark which translates to a time of reflection, which is based more upon statistics generated by the team rather than an emotional experience. Operating an ecommerce business is super-competitive particularly in times of adversity, and particularly in our sector. The enticement to continually offer sale prices is tempting with several independent wine companies delivering exactly this service. It sounds great from a consumer's perspective however, there is a deeper problem which most importers ignore – the impact on the remainder of their merchant customers and particularly those supporting the same wine. Moreover, the damage to the brand / winemaker who are less than keen to see their beloved wines continually in a sale.
The face of the UK wine market has been changing for several years and post pandemic it will never be the same again. More independent wine merchants began shipping directly from wine producers and a consortium of 'indies' created a separate company to provide them with more buying power. Given Brexit (and the pandemic) and the ensuing problems with shipping, I wonder if the balance will swing back in favour of the larger importers, as small indies may find shipping direct too difficult or frustrating to navigate. The answer will be provided over the course of the next 12 to 18 months…
The Wine Merchant is a monthly publication for independent retailers, and it's a fabulous read. Graham and his team provide an unbiased and honest view – it's the only wine publication I read every page of. Each year, Graham invites all indies to complete their annual survey, either anonymously or signed off. The results are summarised and provided in a detailed report for everyone to read – it's fascinating, as you can imagine. A league table for major importers (those supplying the indie sector) is published along with, often candid, quotes concerning the frustrations of working with them. I must say that congratulatory quotes are also provided, which provides balance.
For selfish reasons, The Vinorium took its own path, one that we preferred to walk alone. It's been a long journey and I'm not certain it has an end – Unquestionably, there is not one in visible sight. Save for a few wines, we do not buy from UK importers as the majority offer a poor service and they genuinely do not care where their wines are being sold and for what price… Today, we represent 37 Aussie wine producers which we are immensely proud of. The Vinorium's reputation is strong both domestically and internationally. I would go as far as saying we are as appreciated back in Australia as we are in the UK, which is a fabulous feeling – I even featured on Aussie national TV mid-week following the UK / Aussie trade agreement (wearing shorts, t-shirt and flip flops as I had no idea about the interview).
But it has its pressures both from a supplier, shipping and sales perspective which have been heightened this year. Our responsibility lies with all of our winemakers – to provide a clear path to market, to introduce their brand to international customers and to provide consistency with sales. We have provided some amazing successes – Utopos being a perfect example. A quote from Kym Teusner; "What can I say??? From day one my dealings with everyone at Vinorium have been effortless, professional and totally enjoyable! Even more enjoyable when their first order of this brand new label sold out before it even hit the shores of the UK and they doubled down with another order! Their launch of Utopos Wines and market activation was second to nothing that I have ever experienced before! Since then, in a time of unequalled world chaos, we have seen the growth of our Utopos wines through Vinorium eclipse those in every other export market. I can't express the depth of my excitement when thinking about the future of my relationship with Vinorium!"
Sadly, we have suffered failures with several producers no longer on our books. We take all failures personally and forensically analyse what went wrong, as we should… Sometimes, an answer is less obvious – from time to time we will fling our arms up and have no answer as to why our customers have not purchased the wine as our buying strategy is straight down the line. In short, if it's not very good to great, it's not coming to The Vinorium. I receive the sell-through rates for every agency wine we represent on a monthly basis – the results rarely throw up surprises, but the disappointments are a little harder to stomach when you see them in black and white. We have identified several producers who have not found favour with our customers – perhaps the odd wine has worked however, the majority of their respective portfolios have failed, to put it bluntly.
We are small, dynamic and not fearful of making strong commercial decisions. From day one, The Vinorium championed private customers, which is rare for an importer of our size. Ordinarily we would sell our wines through the on-and-off trade. They pick up the baton and that's where you find our wines – on the shelves of indies and on the lists of bars and restaurants. It's a tough market and one which I have not considered being part of however, the time has come to offer our wines and services to all independent merchants, restaurants and the like.
Why? Fundamentally, our private customers are not buying sufficient wine, which is a bold statement to make (and no disrespect is intended). We have 3,000 private customers, but and at the current sell-through rate, we require 10,000 or more who purchase consistently – this is not realistic in the timeframe we have in mind. Our decision is not borne out of greed - All of our winemakers expect an increase in sales, which is not possible without a wider exposure. I am also keen to shake-up the supplier market as the current business model is woefully outdated and to a degree, broken. We have advertised our concept and tested the trade's appetite which appears favourable. At this stage, I am unable to provide the minutia to our new operation however, I am more than happy to provide an overview for the next six to twelve months.
We have been developing our new website and it is going to be very different to the one we have. Better of course, and packed with wine specific detail. Currently, you all enjoy preferential prices (there is no middle man per se) however, and for us to be able to supply domestic and international trade customers (to the volume we require), all prices must be increased and by some 10-15% which is a significant hike and one I acknowledge. We are forced to increase prices to ensure our 'advertised' private customer prices versus what our trade customers are buying at, and selling at, provides sufficient sales margin for everyone. Currently, it does not.
After twenty-six years of working in wine and the experience it has provided, I want to offer our private client service to the trade, a service which does not currently exist. I want them to enjoy the range, the flexibility, the ease of ordering, the speed of delivery and no minimum order as you all do. It will take time to gain traction, but I am confident it will work and it will cause a stir, that's for sure. Of course, our existing customers will always hold a special place in our hearts and we plan to operate a wine club, which and on face value, sounds rather pathetic, but hang in there…
The wine club will be a paid for, annual subscription filled with lots of benefits. We are considering a lifetime membership fee (nothing extravagant) with additional benefits too – I will revert over the coming months with fuller details. Membership allows access to your very own private online cellar, a list of your purchases, your reserves (you will have access to your own LCB sub account which allows you the opportunity to transfer stock or request their home delivery services), specific recommendations based on your preferences, stories and access to all pre-arrival specials (Standish, Utopos and the like). Pre-arrival specials will not be available for non-members. And special pricing – we hope to offer the same pricing structure as you currently receive. Moreover, and out of appreciation for your loyalty, we will provide free membership (for 12 months) to all existing customers. You simply have to join and enjoy all the amazing, new benefits. What you decide to do after your free membership lapses is entirely your choice and one we will respect… Non members will see a dynamic website and have the same opportunity to pick and choose to their heart's content however, they will be paying 10-15% more than members prices. Some wines will not be available for non-members.
I have touched upon operating The Vinorium outside of the UK which is now a firm decision. The only caveat being if we can ship without problems across Europe. Realistically, this is a dream as, and after six months of officially leaving the EU, there is not one single green shoot of progress. In fact, global shipping is on its knees… I propose to operate a full service, with staff and stocks, out of Belgium which will allow us access to quick delivery to all our existing and new EU customers. Our new website will provide all EU customers the opportunity to purchase and checkout using Euros. Of course, there is a lot of ground to cover, but I expect to open The Vinorium EU in early 2022. As ever, I will keep you updated…
We pride ourselves on unselfish levels of communication and often to the detriment of our bank account. Twelve-noon, Wednesday 23 June, we will be launching an under-bond sale. The following Wednesday (30th and at the same time) we will launch our duty-paid, by the bottle sale. Each sale will last 14 days. Many of our agency wines will form part of our sale and those that have struggled to find a place in your hearts will be offered at much cheaper prices than we would ordinarily like. Essentially, these wines are being delisted, but we do not plan to make a public announcement as to which producers will no longer be stocked (until we have spoken with each wine producer). Key wines and producers will not form part of the sale, including all wines from Utopos, Standish (save for our trade friend's offer on his 2017s – see below) and all new arrivals.
Given the dynamics of our business, this may be the final, full agency sale – I believe this would represent only our third. They are rare, as they should be…
Challenging and exciting times lie ahead of us and I cannot wait to explore and share them with you. In the meantime, we welcome a host of new releases from Gemtree, JC's Own and Glaetzer-Dixon – please see the below banners. We will be adding our full tasting notes in the coming week or two.
As ever, keep safe and well.
Best wishes,
Stu
It's been a long time coming, but finally we are thrilled to present Nick Glaetzer's new collection including, and for the first time, his Nouveau Chardonnay, which has taken us well-over 12 months to nail down an allocation. Nick produces this Chardonnay only in what he describes as 'optimum years.' Made from a small parcel of grapes, the fruit is sourced from 20 year old vines in the Upper Derwent Valley. We understand this may be the last vintage (bizarre when it's only our first) as Nick is no longer able to source Chardonnay from this vineyard. He's planted his own vines, however we will not see a 'bottled' example for at least 4-6 years.
To many, Nick and his creative winery based in Hobart, Tasmania needs no introduction. His wines have a global following and many through Nick's own 'Press Club' subscription, which always makes us nervous as Nick certainly has many loyal and thirsty members. This year, our allocation of Avancé was reduced, and quite considerably (our first order, the 2017, consisted of 1,800 bottles. Our 2019 allocation is a mere 432 bottles!). We placed an order for the 2018 Goldpunkt Riesling and received an allocation of just 24 bottles… Essentially, cellar door / private sales provide a winery with a higher level of profit as opposed to exporting – they need to find a level of balance and attempt to satisfy all of their markets however, and in the case of many producers, domestic sales are starting to take precedence.
Glaetzer-Dixon Rieslings are some of the best examples to come out of Tasmania – We love both the Überblanc 2019 and Goldpunkt 2018 which is inspired by the Grosse Gewäch ("GG") Rieslings from the Mosel-Saar-Ruwer. The complex minerality of the Goldpunkt also draws on winemaker Nick Glaetzer's experience working at Weingut Eugen Müller in the Pfalz region of Germany. The fruit is hand-harvested from a single vineyard site in the Coal River Valley. It is fermented dry and kept sur lie for as long as 30-months prior to bottling… As mentioned, we only have 24 bottles (and not a spare one for us to re-sample and provide a comprehensive tasting note).
Nick has very kindly included a few bottles (8 to be precise) of his famous 2010 Mon Père Shiraz which was crowned the Jimmy Watson Memorial Trophy winner at the Royal Melbourne Wine Show, 2011 - the first time in the trophy's 50 year history for a Tasmanian wine. We defy anyone to present such a prodigious line-up for the same value (we are yet to find an Aussie rival). There are a handful of wines that unite in a chorus of admiration and Nick's certainly do. The range is tensile with profound complexity gaining with the hierarchy of each wine…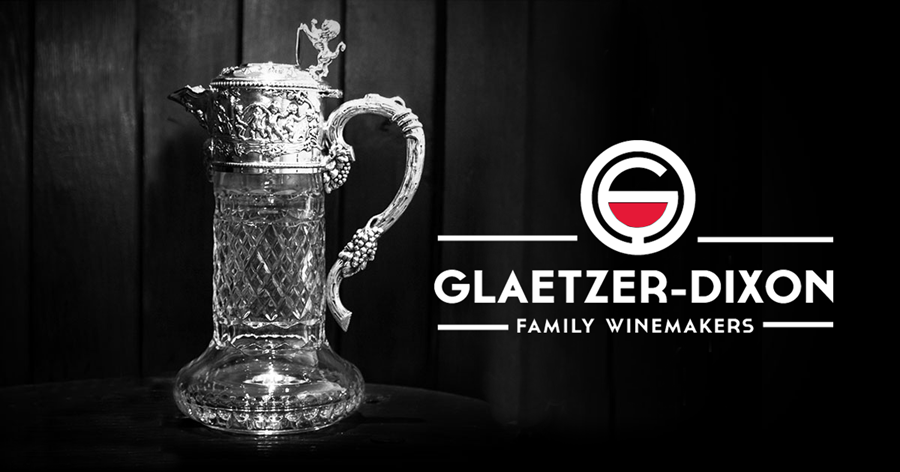 The Jimmy Watson Winner

2010 Mon P

è

re Shiraz
Jancis Robinson.com - "The Jimmy Watson Memorial Trophy has just been awarded to Glaetzer-Dixon, Mon Père Shiraz 2010 Tasmania. A Tasmanian Shiraz! It's the first time the award has been taken off the mainland – and the shock is doubled by the grape variety. Cool Tasmania is certainly not famed for its Shiraz (until now, perhaps?), especially in an Australian context – rather it is known for its sparkling wines, Chardonnay and Pinot Noir.

This is seen as a rebuff to the world-renowned South Australian Shiraz style made famous by McLaren Vale and the Barossa, and as a vindication of the new wave of sophisticated, restrained, aromatic wines with elegance and purity rather than power and weight. Yet, funnily enough, the roots of Glaetzer-Dixon is firmly in the Barossa, where Ben Glaetzer makes such sizeable Shiraz as the Amon-Ra and Anaperenna.
Even so, post-modern Australian wine has triumphed tonight, and there is a palpable buzz in the country right now as it fully restores its vinous credibility and reputation. American wine writer James Suckling is currently racing around the regions supposedly in search of 'real aussie wine', and the Jimmy Watson trophy seems fully to emphasise this trend." 27 October 2011
£100.00 per bottle
Glaetzer-Dixon
Nouveau Chardonnay 2019
Stuart McCloskey "The bouquet is far from reserved and provides a heady and powerful mix of beeswax, oak, soaked oatmeal, fresh vanilla pod, peach and a wonderful floral kick. Freshness arrives in the form of lemon (more verbena than zest). The palate is medium to full-bodied, expansive and not overworked – There's a natural flow and rhythm from start to finish. The palate is perfectly balanced with a penetrating line of acidity running through the centre. The texture is silken and flavours ripe, which translates to immediate enjoyment. Stone fruits wash across the palate (nectarine / peach) lifted by minerals and citrus - the way the flavours fan out on the finish is such a joy. The savoury style adds a further level of complexity… Outstanding. Drink now to 2025. Served using Zalto Bordeaux glassware."
Nick Glaetzer "Made from a small parcel of grapes from 20-year-old vines in the Upper Derwent Valley, the Glaetzer-Dixon Nouveau Chardonnay is a special release wine, produced only in optimum years. Aromatics of figs and flavour of nectarine. A delicious, mineral style chardonnay."
£23.50 per bottle
Glaetzer-Dixon
Goldpunkt Riesling 2018
Nick Glaetzer "Hand-harvested from a single-vineyard site in the Coal River Valley, the Glaetzer-Dixon Goldpunkt Riesling was fermented dry and kept sur lie for 30-months before bottling. White flowers, red apples and toasty honey-suckle aromas. Nervy mineral acidity opens to ripe grapefruit and white stone fruit, ending with more minerality and mouth-watering tannin. Inspired by the Grosse Gewäch ("GG") rieslings from the Mosel-Saar-Ruwer, the complex minerality of this wine also draws on winemaker Nick Glaetzer's experience working at Weingut Eugen Müller in the Pfalz region of Germany."
£26.50 per bottle
Only 24 bottles available
Glaetzer-Dixon
Ü
berblanc Riesling 2019
Stuart McCloskey "What a glorious nose – truly so. It's brimming with dried apricot, salt / saline, layers of mineral, oyster shell, lemon oil, orange peel and smoked almonds. The palate soars and the glycerol-richness is admirable for such a young wine. Given the intensity, this reminds me of drinking Grosses Gewächs wines from Germany. This is extraordinarily complex – I am honestly left speechless as it's so young. Like Nick's Chardonnay, the texture is velvety and super-expansive. Riesling without acidity is dead and flat – this, however, provides a perfect acid structure which creates a discreet frame around the juicy, ripe fruit (it's almost dripping with ripe peach). Stony minerality along with a gorgeous, salty pang is a triumph. I love the mandarin note – perhaps a little iodine too. Unquestionably, the best, young Aussie Riesling I have ever sampled and certainly a step-up from the previous vintage. Utterly gorgeous now but, and over the next 5-15 years, you will be taken to new heights. Breathtaking purity. Sampled using Zalto Universal glassware."
Nick Glaetzer "Hand-harvested from a single-vineyard site in the Coal River Valley, the Glaetzer-Dixon Goldpunkt Riesling was fermented dry and kept sur lie for 30-months before bottling. White flowers, red apples and toasty honey-suckle aromas. Nervy mineral acidity opens to ripe grapefruit and white stone fruit, ending with more minerality and mouth-watering tannin. Inspired by the Grosse Gewäch ("GG") rieslings from the Mosel-Saar-Ruwer, the complex minerality of this wine also draws on winemaker Nick Glaetzer's experience working at Weingut Eugen Müller in the Pfalz region of Germany."
£20.50 per bottle
Glaetzer-Dixon
Avancé Pinot Noir 2019
Stuart McCloskey "My first comment being that this is a very different style to the previous Avancé vintage. The fruit component both on the nose and palate provides pillowing cushions of voluptuousness. If served blind, the bouquet reminds me of a plush, high-quality Pinot Noir from Sonoma. The perfumes exudes blood orange (unmistakable), black raspberry, spiced infused red fruits with some darker depths coming from black plums, damsons infused with a saline solution. My glass is supercharged with lavender, more sweet spice and a kirsch-like character. Avancé is on steroids. Take a sip and wait for the galloping flavours to hit you – The intensity is off the scale for a wine of this value (and clearly why we have lost 60% of our allocation). This flows with exotic richness, but I must emphasis the lightness of touch, the freshness and the salinity which adds a layer of grown-up sophistication – this is far from clumsy. Succulent, moreish and drenched with unbelievable goodness. A little floral-pastille character provides more layers of complexity. This is a full-throttle Tassie Pinot Noir which is going to create, quite the stir. I did not expect this – I am shocked and brimming with a huge smile. Drink now to 2030. Served with Zalto Burgundy glassware (I failed to decant and look at the result)…"
Nick Glaetzer "Bright cherry and raspberry aromas continue to a full flavoured palate of fresh mixed red berries. Silky tannins and integrated acid balances and lengthens the delicious finish."
£22.95 per bottle
Glaetzer-Dixon
Mon Père Shiraz 2017
17 Points - Jancis Robinson "Very northern Rhône nose – pepper, game and floral notes. Loads of peppery spice and quite a ripe juicy palate but with a distinct herbal edge. What a lovely half-way house between Old and New World. (AC) Drink 2019 – 2025"
Campbell Mattinson (The Wine Front) "The legend that is Glaetzer Dixon Mon Pere Shiraz. Drinking it is like rummaging around a forest floor, the wine's juicy acidity, satiny texture and choc-nut notes providing all the light/shade/life/interest you could hope for. "
Nick Glaetzer "Elegant red berry, cassis and white pepper aromas mix with integrated raspberry, spice and smoked lardon flavours. Savoury velvet tannins boost the length."
£42.50 per bottle
Our white wine
of the summer
"So, when in need of a little escape from reality, a little glass of this will make me float away in my own little world."
Stuart McCloskey "By far one of my favourite annual releases, as I am fascinated by the wacky blend (Old Vine Chenin Blanc and Crouchen, Angaston; Sauvignon Blanc, Adelaide Hills; Chardonnay, Krondorf; Pinot Gris, Adelaide Hills) and the textural feel too, the wine provides glass after glass of uncompromised satisfaction. The grapes are lovingly hand harvested, foot treaded and left on stalks and skins for 24 hours. JC ages the wine on the lees for 11 months and bottles unfined and unfiltered, hence a little cloudiness. Bring everything together and you are presented with a textural beauty which will gain complexity over the coming 3-5 years, but there is no harm in drinking this wine now as it's so irresistible. I adore texture and I love wines that do not conform – The caveat being that I am not a fan of daft / wacky wines which are created to disrupt. More often than not, they are produced for social media and rarely succeed. For me, JC is a brilliant winemaker with his natural skill for white wines being his ultimate gift. This man can produce bloody amazing wines which are thrilling, sensuous and just outright delicious. The nose is a riot – I actually find myself unable to put the glass down. There's a touch of oxidation (perfectly acceptable) along with a savoury mélange of hay, wild grass, a milky chalkiness, perhaps a little bruised apple and sweet spice. The palate feel gets my juices flowing – waxy and grippy - my cheeks puckering a little. Savoury, with that fresh grassy character. This is stunningly explosive on the palate. A riot of… Actually, I am struggling to be succinct as there is so much going on. In short, and following a very long tasting note, this is simply a must have. It's a joy and will be the only wine to serve in the garden this year. Drink now to 2025. Served using Zalto Universal glassware."
Jaysen Collins "I've always been a fan of broader, more textural whites. Full bodied, a bit waxy, a bit oxidised. It gets me dreaming I'm on the beach in the south of France somewhere, sand between my toes, looking far more dashing than I am in real life. So, I've collected a selection of white grape varieties off old vines across the Barossa and knocked up a wine truly made for my taste. So just like a freestyler, no form, no script - I thought I might let the grapes sit in the bin for a bit, maybe sleep on it for a day or two to see how it goes. I applied the same theory after ferment, let it freestyle on lees until it's bottled. To build texture I just occasionally drove the barrels around my bumpy winery yard to mix up the light lees. So, when in need of a little escape from reality, a little glass of this will make me float away in my own little world."
£22.95 per bottle