Our final weekend read of the year aptly reflects on the wines we have enjoyed and those which we believe are special. We have enjoyed a wealth of riches and have been utterly spoilt throughout the course of 2019, which made our final selection super-difficult. Unbeknown to you, the list would look a little different if we included wines which are arriving with us in January / February 2020. They were sampled and ordered this year however, and given their lack of physicality, we thought it only fair to eliminate them from the awards. Of course, we have already concluded that our new arrivals are something very special indeed…
This year, our list of winners represents Australia only. Our New Zealand and USA offerings were included in the shortlist however, they were all beaten by better wines. In the summer, I was invited to a round-table debate hosted by The Californian Wine Institute. The premise for the California debate was straightforward enough and covered the following subjects; How to bring together leading buyers and players who are importing Californian wine into the UK. To drill down into the actual wine styles that are of most interest and are working the best on wine lists in the UK. To look at what value for money Californian wines offer UK buyers, and which regions, grape varieties and styles are the ones most in demand. I believe the USA produces some amazing wines and I will always advocate outstanding producers such as DuMOL, Paul Lato, Gramercy, Gavin Chanin to name a few. Perhaps with the exception of Gavin's and Gramercy's wonderful wines, combined with the many thousands of Aussie samples consumed throughout the course of 2019, I have come to the conclusion that, and across all grape varietals, Australia offers the same exceptional quality for a fraction of the price, which was my position during the debate.
New Zealand differs in the fact that prices are more closely aligned to Australia however, and except for a few producers, I believe the Kiwis are lagging behind their neighbours. We started the year with high hopes of dramatically increasing our collection of New Zealand wines, but we have been left unimpressed, and particularly so with wines which would retail between £25 to £50 per bottle. Magda and I have a few irons in the fire which we look forward to sharing in the New Year. Until then, we reveal our winners and close runners-up for 2019. Our selection is based on a combination of the 'wow' factor, overall quality and price versus quality
Scott McCarthy, Chief Winemaker
Perhaps many would expect to see Barossa's Dan Standish romping home with this award, particularly given the huge scores and our fanatical musings, but it was impossible to overlook the Yarra Valley producer, Soumah. Their range is diverse and the quality exceptional throughout. The price versus quality, which was the deciding factor, is quite extraordinary and particularly evident with their 'top' Equilibrio Chardonnay and Pinot Noir, which should both be selling for vastly more. These two wines are a reminder to other producers what is possible for around £35.00.
The Standish Wine Company
Dan Standish takes the second spot and deservedly so. We believe his 2017s are incredible and offer more balance compared to his huge scoring 2016s. The 2018s which will be arriving June / July 2020 have already got the wine world talking following their recent 'barrel scores' and many 'potential' 100 pointers, which will escalate the demand above what is physically produced.
The incredibly talented Joshua Cooper takes the third spot which isn't bad considering his wines only arrived with us earlier this month. We love his unaltered wines that do not conform to some pre-existing, established ideal. The wines express the season in which they are grown and offer true 'terroir'. Alcohol levels are modest, and the wines scream a skilfulness and individuality which is impossible not to be impressed by…
Each winner is mentioned above which proves how exceptional their wines are. Again, you would be correct to question why the second spot receives a higher score than the overall winner, The Springs Syrah 2017, which stylistically is the most individual Syrah I have ever sampled out of Australia and the reason why it takes the number one spot. It's spellbindingly good and will leave you scratching your head. I will also declare this to be the ultimate wine to serve with Christmas lunch.
Josh Cooper Wines
The Springs Syrah 2017
98+ Points Stuart McCloskey
"Unquestionably, a magnificent Australian Syrah and unlike anything I have sampled before, which is saying something. In a nutshell, there isn't much I can add and the reason why I declare the 2017 The Springs Syrah my Wine of The Year (2019). The nose offers a beguiling mix of olive tapenade, marine salinity / brine, dark red fruits, redcurrant, cranberry, flowers and more akin to a Pinot Noir than Syrah. The palate is focused and washed with redcurrant, cranberry, sweet pomegranate, glimpses of dried blood orange and finishes with the same salinity which is fabulous. The tannins provide a wonderful lattice of support as does the bristling acidity (or is that the tart cranberry and redcurrant?). Certainly, one of the purest and most natural Aussie Syrahs I have ever come across - It's truly mesmerising. The finish and length go on forever. Exquisite – truly so… Decanted for 2 hours and served using Zalto's Bordeaux glassware (I'm intrigued to try it in the Burgundy glass)."
£30.95 per bottle
The Standish Wine Co.
The Schubert Theorem Shiraz 2017
99-100 Points - Stuart McCloskey
"An extraordinary colour ranging from midnight black to a rim of purple. The nose is intoxicating and utterly beguiling with lavender, violets, vanilla, coal, cold stone, ink, iron ore and graphite. The palate is full-bodied, richly structured, incredibly layered and beautifully defined - The Château Latour of Australia as this befits 'the iron fist in a velvet glove' perfectly. It's quite extraordinary how a wine of such scale and age is so harmonious. The flavour profile and length are unending. The texture silken. The sweet entry finding its way to an iron ore and salty finish is fascinating (my last sip offered coffee notes). It is easy to understand why this was wine of the day (a difficult achievement given the calibre of the room). One of Australia's immortal wines which has the potential to outlive most of us. Remarkable. Decanted for 2 hours and served using Zalto's Bordeaux Glassware."
£64.95 per bottle
or £306.90 per case of 6 In Bond
Soumah Equilibrio
Pinot Noir 2017
Platinum Medal at Decanter World Wine Awards 2019
Winner at the 2020 Halliday Wine Companion Awards
98 Points - Stuart McCloskey
"A Yarra Valley Pinot Noir of exquisite beauty and delicacy. The bouquet is opulent and invites you into an exotic medley of dark fruits, sous-bois, a flicker of sweetness from dried strawberry, savory herbs and a lovely lift from a floral perfume. The palate is flawless – Not a hair out of place. The tannins melt like sorbet as the red stone fruits wash across your palate. The winemaking is effortless which shows in the finished product. The cohesion is divine, as is the texture. It is important to note this is far from a delicate flower as the fruit and structure are impressive. This will turn all Pinot Noir haters into lovers. An astonishing wine for the price tag and will certainly be high on our '2019 wine of the year' list. So far, one of the best show stopping Yarra Valley Pinot Noir's I have tasted. Sadly, we are almost sold-out, and it arrived on Friday. Even more alarming is the fact that we will have to wait until the Autumn of 2020 for the 2019 (no '18 I'm afraid). Drinking beautifully today and I'm not convinced further cellaring will benefit. Let's test it! Sampled using Zalto's Burgundy glassware"
£35.95 per bottle
Located in the Huon Valley, Australia's southernmost municipality and coolest wine region, Sailor Seeks Horse vineyard sits right on the edge of viticultural possibility. Paul & Gilli believe that great Pinot Noir and Chardonnay are made on that edge, where the risks are high but the rewards even higher, and that is impossible to argue with. Both wines have enthralled our team, but it's their Chardonnay that offers something truly special. I believe this will be a 'perfect' wine in 3-5 years and would implore you to find a safe space in your home for a little stash.
Sailor Seeks Horse
Chardonnay 2017
98-99 points Stuart McCloskey
"Marine, saline, oyster shell with touches of green apple, orchard flowers and a lovely streak of minerality on the nose. The palate is medium-bodied, bright, alive with a slight chalkiness. There's a lovely fabric to this wine. Tightly knit with subtle fruits interwoven with a tension which I find difficult to express in words. More a sense of completeness. The simplicity is quite breathtaking and rare to find these days. Tensile, reserved and unapologetically a personal expression of Paul & Gilli who are obsessed with producing wines which they love, rather than following fashions. I believe this to be one of those wines which will create much argument. Those edging toward flamboyance may show disdain, whereas those wishing to seek out ethereal balance and gracefulness will be swooning. I would argue this must be one of the greatest exponents of Australian Chardonnay I have come across and cannot wait to see how this individualist wine unfolds over the coming years. Regardless of which camp you stand in – May I suggest you, at the very least, try a Tassie Chardonnay which flirts with perfection (if only once). Decanted for 20-30 minutes and served using Zalto Bordeaux glassware (as essential as the wine!)"
£44.50 per bottle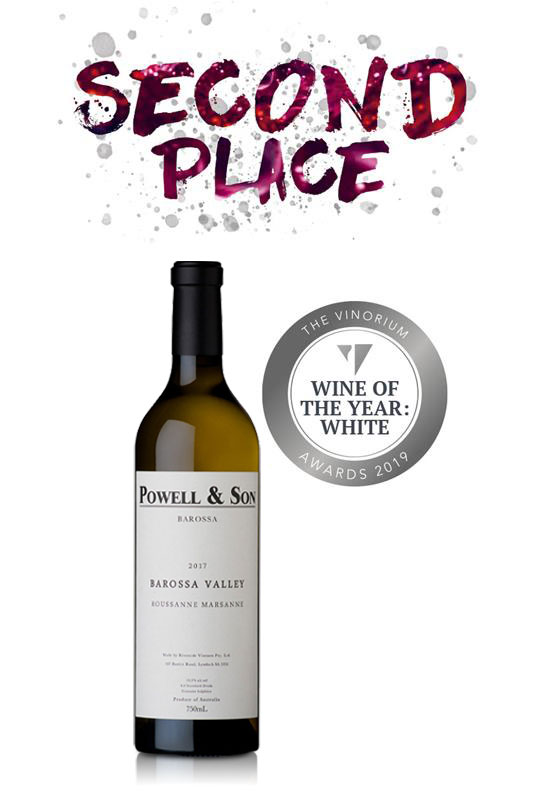 Powell & Son
Roussanne Marsanne 2017
97+ Points Stuart McCloskey
"Sharply focused, linear with a vibrancy which I wasn't expecting. The floral character comes to the fore which compliments the nashi pear, peach, melon and suggestion of jasmine brilliantly. The palate is expansive with swathes of buttered citrus fruits underpinned with a core of minerals. I'll be brutally honest, I was expecting a voluptuous Barossa bombshell. Instead, I received an unexpected balancing act between litheness and precision which is extremely impressive. This is one of those rare wines which floats on the palate but delivers to every millimetre. Drinking beautifully now (decant for 20 mins) but will cellar for 8-10 years."
£40.95 per bottle
Eileen Hardy
Chardonnay 2015
98+ Points - Stuart McCloskey
"A stunning bouquet offering a profusion of aromatics ranging from vanilla, lemon zest, Seville orange marmalade, wet limestone to maritime salinity and finishing with freshly grated, spicy ginger. The wine has put on some weight with a lovely silky textural feel, but far from viscous. Harmonious and exquisitely judged to be succinct. Flavours are more difficult to pin down at this stage, but one thing is certain, it's effortless and washes across my palate with consummate ease. I love the spice, salinity – very maritime which changes with more aeration. Fascinating is the wine's development in the glass. As I mentioned in my previous notes - This would shame many white Burgundies at double the price. This is simply a beautiful Chardonnay which offers more potential for those with patience. Just magnificent and for me, the best Chardonnay in our portfolio. The value is unbelievable. I recommend drinking this superb wine from now to 2028. Sampled using Zalto Bordeaux glassware"
£29.95 per bottle
Best Value Wine
of the Year
I suppose one would question, and rightly so, whether a £35 bottle should feature in the 'Best Value Wine of the Year' let alone win the award. However, Soumah's Equilibrio Chardonnay should be selling for £50+ (as should their Pinot Noir) and quite honestly they put many expensive wines to shame, which for us, lays the foundation and our justification for this award. We will need to wait until late 2020 and perhaps to 2021 to see the next special vintage as both Equilibrio wines were not produced in 2018.
Hardys HRB Chardonnay 2013 is a worthy winner too. We have no wine (or more importantly, we have not sampled a wine which offers age, outstanding quality and all for less than £17.00). Brilliant for the money – truly so. The same can be said for Grant Burge's Corryton Park Cabernet Sauvignon 2013. In short, this is a brilliant and uncompromising Barossa Cabernet Sauvignon. Think expensive Bordeaux Second-Growth and you'll be right on the money
Soumah Equilibrio
Chardonnay 2017
7 Gold medal including:
Gold Medal at 2018 Decanter World Wine Awards
Gold Medal at 2019 Int'l Cool Climate Wine Show
97+ / 98+ Points - Stuart McCloskey
"The concept behind Soumah's Equilibrio range is to promote the very best barrels, clonal mix and new oak integration to create a few cases that will benchmark the potential of each vintage. A faint whiff of sulphur / gunflint. Tightly coiled and flirts between mineral and flint. With time, lemon oil expands the aromatics along with the most delicate, white flowers – a lovely sense of harmony. The palate has a beautiful tension and is far from flamboyant. Yuzu, freshly squeezed lemons, crushed stones / stony minerality provide a perfect crystal-like delineation. Reserved but far from miserly. More succinct, precise and as per its name, effortless equilibrium. It is tempting to drink now, but I would find a dark corner and ignore it for 2-3 years for that special experience. Better still, come back in a decade. In short, it is a very, very fine wine". Served at a cool warehouse temperature & utilising Zalto's Bordeaux glassware (I recommend decanting for 30 minutes too).
£35.95 per bottle
or £166.50 per case of 6 In Bond
Hardys HRB
Chardonnay 2013
95++ Stuart McCloskey
"Great colour and a suggestion of its age however, both the nose and palate prove otherwise. The nose interplays beautifully between brulée, ripe orchard fruit, spiced pear to nervy minerality. The palate is broad, textural, far too moreish and deeply satisfying. Age has been this wines friend – The fruit is decadent and creamy but overall, it shows bags of finesse. The freshness is outstanding, and I wouldn't be surprised if this is drinking fabulously in another ten years. There isn't much to add beyond the fact that this wine seriously over-delivers at every level and one wine which should be served under blind conditions to simply highlight the outstanding quality and value. Utterly faultless for the money." Served using Zalto Bordeaux glassware
£16.95 per bottle
Grant Burge Corryton Park
Cabernet Sauvignon 2013
98 Points - Stuart McCloskey
"A heavenly nose of cassis, plum, soy, graphite and lots of mineralite at play here. With time, cedar / pencil box aromatics unfold. The palate speaks more of finesse than power. Incredibly complex and not overly tannic. The entry is sweet, ambitious with ripe, silky black fruits. Texturally, and impossible to miss, is the sense of finesse and grace which weaves its magic and is seldom seen in the Barossa. Cedar and graphite-infused fruit emerge but I keep coming back to the wines beguiling poise. Svelte and sensuous with a little wood dust which adds a lovely texture. The finish seems endless – clove and fennel seed leading to orange peel? I could go on, but I must stop. In short, this is a brilliant and uncompromising Barossa Cabernet Sauvignon. Think expensive Bordeaux Second-Growth and you'll be right on the money". Served in Zalto Bordeaux glass.
£24.95 per bottle
or £111.40 per case of 6 In Bond