Issue: 93 / Friday 6 December, 2019
The exquisitely talented Joshua Cooper, Macedon Ranges, Victoria
Exclusive to The Vinorium
Joshua was truly destined to make wine as he was born and raised at Cobaw Ridge winery, founded by his parents Alan and Nelly Cooper. Josh, although young, is well on his way to establishing himself as a leader amongst the next generation of Australian winemakers.
Joshua's parents' biodynamic philosophy has clearly found favour with his own wines - creating natural wine with classic characteristics being the fundamental hallmark. His first vintage was in 2012, with a single barrel of wine made from fruit his parents grew in the Cobaw Ridge vineyard. His label has since expanded to a more varied range, including historic styles as well as the more experimental and esoteric.
Currently, Josh sources his fruit locally (from great sites in the Heathcote and Macedon Ranges regions) and only from growers who are sensitive to environmentally sustainable practices. Josh works tirelessly and to make enough money to buy the fruit for his wines, he currently works around the Macedon Ranges. Thanks to Mum & Dad, he can produce his own wine at their winery… Having spent his life watching his parents drive organic and biodynamic grape growing in Australia, he has a clear idea of how he wants his own label to grow. Fruit quality and provenance being an overriding imperative. Josh has ambitions in the coming years to transition to his own vineyard supplementing the current fruit with what he has grown himself, which is an exciting proposition.
We love his unaltered wines that do not conform to some pre-existing, established ideal. The wines express the season in which they are grown and offer true 'terroir'. Alcohol levels are modest, and the wines scream a skilfulness and individuality which is impossible not to be impressed by…

Old Port Righ Chardonnay 2018
97-98 Points Stuart McCloskey "Fascinating notes which flit from confit lemon, poached ripe pear, apple, crushed rocks to pastry cream and almond croissant. The palate is tightly coiled, tense and comes alive with yuzu, lemon & lime – a bright streak of acidity runs through the core. This is a wonderful example of a wine which is all about purity and precision rather than leanness which we are seeing far too often. This will shatter the perception of Aussie Chardonnay and will leave no room for argument about its stunning quality. Today, a wine for those seeking unforgettable purity. Epic and will remain so for at least a decade… Ensure you do not serve too cold and decant for 20/30 minutes… Served using Zalto's Bordeaux glassware, an essential to appreciate great Chardonnay."
£34.50 per bottle
Cope-Williams Chardonnay 2018
96+/98 Points - Stuart McCloskey "An electric bouquet of lemon oil, intense citrus, liquid minerals, chalk and faint wafts of nougat. The palate is an intense experience as it fights between grace, citrus power and an impressive line of acidity. Thrilling, tense, nervy and must be decanted for 20-30 minutes. I detect a little sherbet, more citrus fruits, sea salt, very saline with flavours fanning out with more time in the glass. This is a direct and precise wine but there's a charming sense of harmony and poise towards the finish. Fabulous and I am intrigued to see how this develops over the coming years. Perhaps the most fascinating Aussie Chardonnay of 2019?"
Hand harvested in the cool of morning, with careful sorting in the vineyard. The grapes are partially foot crushed followed by a very gentle, slow pressing over five hours. The wine enjoys one year in oak on full lees, no stirring, and no racking, prior to being transferred to stainless steel with all the fine lees for a further 6 months élevage. Bottled unfined and unfiltered with a very small dose of sulphur the week before bottling.
Captains Creek Chardonnay 2018
96 Points - Mike Bennie, The Wine Front "Yes thanks. Fragrant white of lemon juice, vanilla, green apple, floral things and a faint whiff of nougat. Focused and tight in the palate, racy almost but for the drizzle of saline minerality and a pretty, flavoursome finish. Serious feeling in a leaner spectrum but not without flavour and detail. Killer wine – does everything so righteously."
£30.95 per bottle
98+ Points Stuart McCloskey "Unquestionably, a magnificent Australian Syrah and unlike anything I have sampled before, which is saying something. In a nutshell, there isn't much I can add and the reason why I declare the 2017 The Springs Syrah my Wine of The Year (2019). The nose offers a beguiling mix of olive tapenade, marine salinity / brine, dark red fruits, redcurrant, cranberry, flowers and more akin to a Pinot Noir than Syrah. The palate is focused and washed with redcurrant, cranberry, sweet pomegranate, glimpses of dried blood orange and finishes with the same salinity which is fabulous. The tannins provide a wonderful lattice of support as does the bristling acidity (or is that the tart cranberry and redcurrant?). Certainly, one of the purest and most natural Aussie Syrahs I have ever come across - It's truly mesmerising. The finish and length go on forever. Exquisite – truly so… Decanted for 2 hours and served using Zalto's Bordeaux glassware (I'm intrigued to try it in the Burgundy glass)."

Doug's Vineyard Pinot Noir 2018
Mike Bennie, The Wine Front "Smoky notes, dried green herbs, black berries on brambles, game meat notes. Great start. Savoury sense. Fleshy texture, sweet-ripe but fresh fruit flavours, supple through its long flow then tightens on a web of surprising, grippy-graphite tannins. Serious pinot noir here. Tightly wound. Intense. Long-lived."
£34.50 per bottle
Massena: The Coming Together of Two Great Winemakers. Dan Standish & Jaysen Collins
Exclusive to The Vinorium
Time flies in life and wine and I didn't think I'd be writing an introduction to Massena, now twenty vintages on, back when we were picking bush vine Grenache grapes in the year 2000.
What started as an adventure into wine by a couple of gung-ho fellas, looking to make some interesting wine, has truly been a journey. We started off by respecting our old vines and focussing on Grenache and Shiraz, moved quickly into alternative varieties and our production methods always held true to minimal intervention. In some ways we were trailblazers, in front of the curve; in new varieties or style interpretations. Like making dry, light, textured, barrel fermented Rosé in 2007 and getting blank looks as to why we'd being doing this - roll forward ten years and everyone's got one of these. Why would you plant Saperavi, Primitivo and Tannat in the heady days of the early 2000s Barossa Shiraz obsession? We were looking for drought tolerant, thick skinned or higher acid varieties that would combat our changing climate. When the style was big, black and oaky, ours was herbal, spicy and lowly oaked - designed for the dinner table not a glass staining contest. Now this is becoming the norm in our part of the world.
So Massena was not started as a profit making, slickly marketed wine company, it was conceptualised to have fun making wine that we liked to drink or had an interest in learning how to make. Our board meetings were on the golf course followed by a long lunch, when we really should have been combing through our sales budgets or strategising our cost saving initiatives. That sounded boring and we were only in it to actually make the wine, not ordering someone to do it for us.
The authenticity in Massena is it has always been about making the most interesting wine possible at that given time and thoroughly enjoying the process, not chasing what is the current fad or trend. Then suddenly you become old enough in the cycle that the style of the day just rolls around and finds you!
Massena The Eleventh Hour Shiraz 2017
James Halliday "Fruit from Greenock and Stone Well, 100% whole-berry fermented, aged on lees in older oak for 15 months. There's a smoothness about this wine which will win friends easily - it just slips down. Aromas and flavours are in the typically dark-fruited Barossa spectrum, and whilst not overly ripe there is a sense of sweetness on the palate. The tannin quietly plays its part."
£24.95 per bottle
Massena Stonegarden
Grenache Mataro Shiraz 2017
James Halliday "A field blend from a vineyard planted in 1858. Wild yeast, whole bunches included, aged in neutral French oak for 15 months. The ancient vines have produced a wine of great finesse. Cherry-like aromas and flavours with a seasoning of Mediterranean herbs and a faintly smoky note. Silky and seamless on the palate with finely tuned tannin, it's all impeccably balanced."
£36.95 per bottle
Massena Stonegarden Grenache 2017
97 Points - James Halliday "Hand-picked in two parcels from the original ancient vine plantings (1857), fermented and aged on skins in a ceramic egg until Oct '17. The second parcel was 100% whole-bunch fermented and matured in used puncheons. You might guess a $100+ price and/or a wine with issues, and be wrong on both scores. This is a really attractive varietally pure wine, with very good colour and structure."
£36.95 per bottle
JC Collins left and Dan Standish right circa 2010
Massena The Howling Dog Saperavi 2017
Winemaker "It took us a while to get this one right, when we were first experimenting with Petite Sirah the tannins were so pronounced that tasters actually started howling as it crossed their palate. We later planted other naturally tannic varietals Tannat and Saperavi, softening the tannins so the only howl we hear now is one of enjoyment. Taken from Dadd's Block on the high side – sandy loam with long sunlight hours and low rainfall. The best of these varieties is selected each year, either on their own or as a blend."
£19.95 per bottle
Massena Surly Muse Viognier/Marsanne 2018
The surly muse reflects the technique of ageing 'surlie' (on lees) for an extended period, giving palate texture and phenolics. Combing the rich texture of Marsanne with the heady aromatics of Viognier gives a white blend with body and freshness.
£17.95 per bottle
Massena Stonegarden Riesling 2018
95 Points - James Halliday "Fruit from these 70+-yo old vines has produced - or contributed to - some fine Eden Valley rieslings over the years, in different guises. This release is in the classic mould, alive with all manner of citrus; zest and juice, blossom and curd. Floral and mineral notes are in the mix as well, with the sweet fruit and tang of acidity running long on the palate."
£19.95 per bottle
The biodynamic home to
sensitive and caring winemaking
Exclusive to The Vinorium
Cobaw Ridge is a fully certified organic and biodynamic winery producing spellbinding wines which are honest, authentic and unashamedly full of flavour. The winery was established in 1985 by Alan and Nelly Cooper who we have previously introduced. Their vines were planted on granitic, sandy soil in the cool climate Macedon Ranges, on the cusp of the Great Dividing Range at some 610m. Their positioning, in a natural amphitheatre, provides the perfect place to produce 100% estate grown, hand-picked, hand-pruned, hand-tended, terroir-driven wines. In short, a unique labour of love.
Biodynamic principals have their sceptics however, and to quote Alan, "We feel these practices will further our holistic, sustainable, and above all natural approach to grape growing and winemaking, and provide an even greater opportunity for the wines to speak of the land which bore them."
Alan & Nelly start with super clean fruit that is not full of agro-chemicals, moderate potential alcohol is a result of their cool high-altitude site, lots of minerality from their old granite soils and amazing abundant acidity and tannins... "Why add anything to that" is their mantra. They have not set out to, "make a style," just what the vintage and vineyard gives them year on year.
They work with fruit that is right at the outer margin of ripeness, but on the right side of ripeness. The big advantage being their ability to achieve a natural expression of a wine without resorting to earlier and earlier picking dates and lots of added acid. "True cool climate" as they like to refer to it.
Their Syrah was totally sulphite-free in 2014, and the other wines receive only a minimum sulphur treatment. Sustainability is close to the heart of Alan & Nelly, who are constantly challenged by the whims of nature…
You would be wrong if you believe these to be fluffy words, which lack substance. We kid you not, all wines from Cobaw Ridge are multi–layered, exceptional and offer extraordinary value. Wines full of individual character, style and show full flavours which richly reflect this special vineyard site which they almost lost in the bushfires of 2009.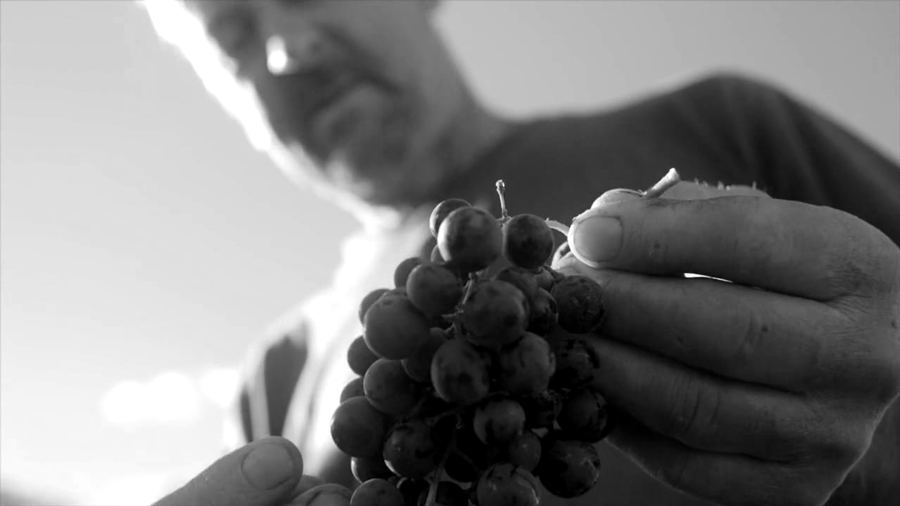 Cobaw Ridge Chardonnay 2017
Dedicated biodynamic farmers with their stellar site set at 610m above sea level in the cool upper reaches of Macedon Ranges. The wine is made with no additions, adjustments or chicanery. Typically, Cobaw Ridge Chardonnay is full flavoured, generous, a touch savoury. No disappointment here. Stacks of character and quality, from a good place and good people.
Mike Bennie, Winefront.com ''Always expect savoury, interesting chardonnay wines from Cobaw Ridge. Here's another. Loading in grape flavour and its full potential. It's a big chardonnay but not weighty, nor creamy, nor buttery and toasty. There's just lots of things going on. It smells of honeycomb, cashews, green apple, faint sea spray, the palate with similar flavours, really juicy but with a core of minerally-saline acidity and finishes with a light fino-meets-green-apple edginess. It's complex as chardonnay gets, alluring and compelling as a drink. It's Fantastic. ''
£29.50 per bottle
Cobaw Ridge Pinot Noir 2017
An incredibly exciting release, this wine sees a small percentage of grapes picked from the new high density vineyard Alan planted a number of years ago. All blocks processed separately. 10% whole bunch in base of fermenter and gently destemmed the balance on top. Total time on skins 30 days. Gently hand plunged twice a day while actively fermenting. Basket pressed to tank before going into oak. About 20% new French oak. Thirteen months in oak before blending and bottling in the middle of 2018.
The finished wine shows that vintage '17 was indeed on the cool side showing elegant restraint on the palate. The wine needs time to unfurl and allow the amazing focused core of red fruits to shine.
Gourmet Traveller Wine 'Best buy wines to cellar' - "Cobaw Ridge produces scintillating wines in which charisma is never lacking. This pinot noir asserts many things from the glass, with wild-edged herbal, spicy, pickled cherry scents and a palate that spreads luxuriously with brambly, blackberry flavours. So much going on, so unique. It's fun to approach, but will be all autumn scents and flavours with 5-10 years of maturity."
£29.50 per bottle
This stunning Syrah comes from the singular Cobaw Ridge Estate, the only biodynamically farmed vineyard in the Macedon Ranges. This high-altitude site sits at 610m above sea level, yielding Syrah imbued with floral aromatics and spicy flavour profile. The fruit is always impeccable when it enters the winery, every effort taken in the vineyard by the Coopers to ensure that little needs to be done in the winery to bottle a pure expression of their unique vineyard.
Alan Cooper, Founder & Vigneron "Very much typical of our Syrah from a cooler year, aromatic on the nose, savoury spice and a fine dusting of black pepper to finish. The essence of granite. Focussed and expressive of our amazing terroir. The classic iron fist in a velvet glove. Huge latent power and structure to burn. This wine will reward you even more with age!"
Gourmet Traveller Wine 'Best buy wines over $30' "The time is long past for comparing Australian wines to French wines. We've all grown up, the industry has matured, we can stand on our own two feet and be proud of who we are and what we do in Australia without having to fawn to France.
Having said that though, it's really hard not to think of the great Syrahs of the northern Rhône (St-Joseph, Hermitage) when tasting this exceptional, nervy, peppery, thrillingly dark-fruited Syrah. And even harder to ignore what great value it is in comparison to them."
£29.50 per bottle
Christmas trends
at The Vinorium
The key to an inspiring world of wine
We have created a smart range of gift cards which provide the perfect present; enabling you to share your love of fine wine and open the door to our mouth-watering range focused on premium Australian wines. If you would like to share the secret of our huge selection of fine wines at the best prices in the world market then select one of our gift cards for your nearest and dearest. Available in a range of values from £15.00 to £50.00, any recipient of a Vinorium gift card is sure to enjoy browsing our range and finding the perfect bottle or a selection of wines to indulge in. Our gift cards can either be redeemed in-store at our Lenham warehouse shop, or online where our full range of almost one thousand different wines is available to peruse and have shipped directly to your door.
"Wow! Zalto Bordeaux glass...... The glass displays a true expression of terrior, a true expression of fruit and the true character of the wine! Amon Ra and Lily's Garden sampled! What a fantastic surprise considering I have been drinking from a Riedel glass for the past 2 years. Very impressed!" - Vinorium Customer, Robert Brook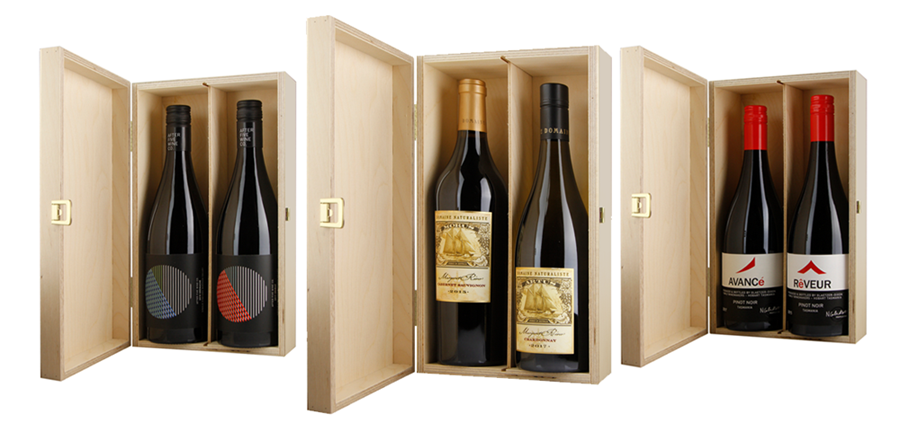 Vinorium Exclusive Gift Sets
Tasting notes included, and a personalised gift message from you.
Highlights from our coveted gift selection
Hoddles Creek Two Bottle Gift Set
1x 75cl bottle Hoddles Creek Syberia Chardonnay 2017 and
1x 75cl bottle Hoddles Creek PSB Pinot Noir 2017 in a double wooden gift box
*Saving £6.45 compared to purchasing individually*
Syberia Chardonnay 2017
97 Points, Gary Walsh (The Wine Front) "Struck match, lime, grapefruit, almonds, chicken stock, flickers of cool green. Fine and composed, surges through the mouth, grips on tight, and doesn't let go. So long. Flint, chalk, crunch, texture, subtle bitterness. It's all here. It's very Adult Chardonnay. Racy. A nudge and wink to those in-the-know. Outstanding."
PSB Pinot Noir 2018
Top Rated Pinot Noir at the 2020 Halliday Wine Companion Awards
97 Points - Wine Companion "From a single close-planted block. It's fragrant, pretty, powerful and statuesque at once. The quality here is considerable. Deep with plum, boysenberry, mint and red cherry fruit flavour, though crackles of spice, wood smoke and mineral all make important contributions. Tannin, what beautiful tannin. We're into the upper echelons of quality here."
£75.95 per gift set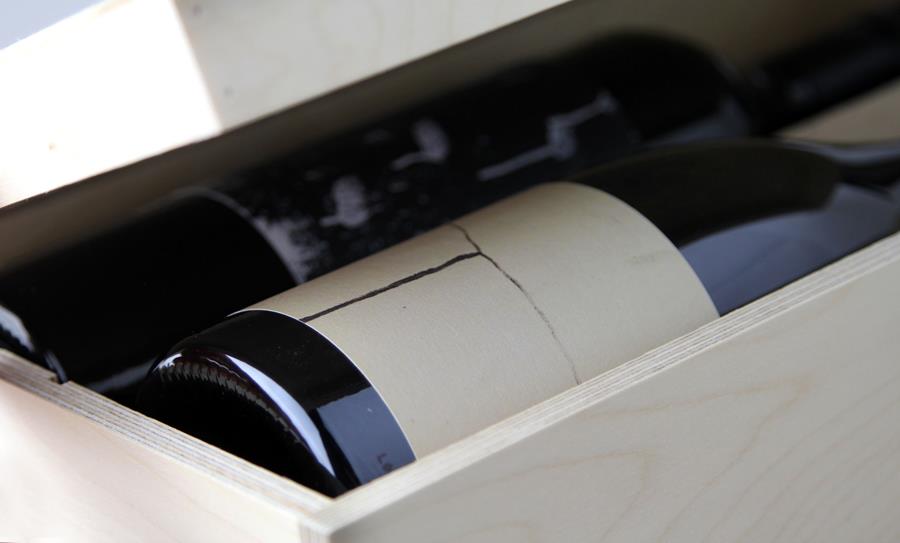 Nocturne Two Bottle Gift Set
1x 75cl bottle Nocturne Chardonnay 2017 and
1x 75cl bottle Nocturne Cabernet Sauvignon 2017 in a double wooden gift box
*Saving £4.45 compared to purchasing individually*
Nocturne Chardonnay 2017
97 Points, James Halliday "A tiny 0.37ha interplanted with Bernard/Dijon and Gin Gin clones on south-facing deep silver grey sands. Wild fermented in new and used oak. Pale straw-green; highly fragrant/perfumed, palate fine and intense; minerally aftertaste. 13% alc, screwcap. Drink to 2030.
Nocturne Cabernet Sauvignon 2017
2018 Halliday Cabernet Winner: Margaret River Best of Region
Margaret River Wine Show Trophy: Best Red Wine of Show 2018
97 Points - James Halliday "A nail-biting vintage, rain ravaged then with unbroken sun. "I am as happy with this cabernet as any I have been involved in making," says Julian, and one taste will tell you this isn't marketing spin. A beautiful cabernet, purity and balance of the highest order. 14% alc, screcwap."
£61.95 per gift set
Christmas at The Vinorium
means it's time for Claret.
Perhaps we're being overly romantic, but Christmas would not be Christmas without a few bottles of Bordeaux (Red & White).
Granted, the Margaret River offers some amazing Bordeaux blends but there's nothing quite like a mature bottle from our friends across the pond.
PS: Avoid any wine that says Claret on the label!
Lanson Champagne
Noble Cuvee Brut 2000
Presented in its own beautiful gift box
98 Points - Stuart McCloskey "Fully mature as one would expect and all the better for it. The nose is incredibly inviting with lemon peel, orchard fruits, brioche, poached pear and finishes with deep honey notes with touches of caramel and Fino Sherry. Despite being practically 20-years of age, the palate is razor sharp, full of energy, broad and textural which are the hallmarks of great Grand Cru vineyards (Avize and Cramant). The wine offers an indescribable sense of completeness – Imagine spiced, poached pears melded with a brioche richness, paired with candied fruits and a killer thread of acidity. A Michelin Star pudding if this could be translated into a bowl… Dazzling and a highly addictive Champagne. Truly exceptional. Possibly disgorged November 2012 but that is not clear on the bottle. Served at warehouse temperature and using Zalto Universal Glassware."
Joe Czerwinski (RobertParker.com) releases his 2017 & 2018 Standish scores.
In July 2019 we wrote about the importance of world critics (our article can be viewed here) and their impact in the wine market. Joe Czerwinski, writing for one of the world's most prominent platforms; RobertParker.com, communicated his recent trip to Adelaide. Here, he sat as the International Judge at the Royal Adelaide Wine Show for the second consecutive year. Joe took advantage of his visit to South Australia and spent several days touring around Barossa visiting a number of wineries including Torbreck, Mitolo, Peter Lehmann and Seppeltsfield and our very own Standish Wines. We understand a report on Clare Valley will follow shortly.
Ordinarily, we could quickly reveal Joe's scores for the Standish wines but (and given the above article) we thought we would share the upside of his report and the impact we have received during the course of the past 48 hours. We physically took stock of the 2017 collection from Dan and his winemaking partner and wife Nicole during August of this year. We received a little flurry of trade orders but small compared to the 2016s. Fast forward to Joe's article and we received more trade emails requesting allocations for the 2017 Lamella and Relic than we have physical stock. Why?
The short answer would be that The 2017 Lamella was the standout for Joe and equalled Torbreck's Run Rig with 98 points. Of course, Run Rig is double the price…
"The star of this year's lineup is the 2017 Lamella Shiraz, sourced from a single dry-grown Eden Valley vineyard in the vicinity of Henschke's Mount Edelstone and Hill of Grace vineyards. It shows a healthy dusting of cracked peppery and dried spices but also layers of red and blue fruit and savory notes of black olives and espresso. Full-bodied and silky but taut, it ideally needs another 2-3 years of cellaring to soften the tannins on the long, dusty finish."
Joe elaborated "After reviewing the stunning 2016s last year, I was excited to try the 2017s and 2018s at Dan Standish's small winery. The 2017 vintage, said Dan, was his biggest ever, yet he bottled the least wine. "With its long, slow, even ripening, it's probably the ideal vintage to show the different [Barossa] subregions," he said. Each of the named wines comes from a specific vineyard in a different part of Barossa. The Relic comes from Krondorf, Schubert Theorem from Marananga, The Standish from Greenock, Lamella from Eden Valley and Andelmonde from Light Pass. Generally, the wines see about 20% new oak (all French), with the proportion of whole clusters varying, depending on the vintage and the vineyard. Also depending on the vintage, Standish bottles all, some or none of the wines, with any barrels that don't make the cut being sold in bulk. After his blockbuster 2016s, the 2017s come across as slightly less complete yet still delicious, while the 2018s—"a typical Barossa vintage," according to Standish—look extremely promising."
The Relic came a close second with 97 points which also equalled Torbreck's The Laird (circa £500 per btl). "Standish's 2017 The Relic Shiraz-Viognier includes 2% Viognier, just enough to soften the wine's considerable tannins and add a floral element on the nose. Gorgeous scents of brambly blackberries and anise lead into a wine that's full-bodied and plush, long and silky, adding hints of cocoa and espresso on the finish."
The plot thickens as demand for the unreleased 2018 collection has been quite extraordinary. We do not expect to take delivery until early summer 2020 however, we are able to advise of Joe's scores which are as follows: The Standish and Lamella received 98-100 points. It is important to note these are barrel samples with in-bottle scores available at a later date. Joe has indicated that both wines have the potential to receive 100 points. The Lamella "Another potentially perfect wine" and The Standish "This seamless beauty is a candidate for perfection."Of course, any wine which receives 100 points increases significantly in value. The Relic received 96-99 points and The Schubert Theorem 96-98 points. We are thrilled to see the return of the Andelmonde Shiraz which is sourced from a vineyard not far from the winery in the Light Pass subregion of Barossa Valley.
Stu is liaising closely with Dan on the new allocations for The Vinorium. Although the exact numbers of 2018s are yet to be confirmed, we do envisage we will be in a position to offer the 2018s towards Christmas or early January 2020 on a pre-arrival special. We will send an official offer when we know the exact allocation.
We have suspended all trade sales associated with the 2017s until our private clients receive the first opportunity to purchase the newly scored wines. As we did for John Duval The Entity Shiraz, customers who support (your orders previous to this email will be included) will receive first dibs on the 2018s and we hope on a like-for-like basis. We will offer unsold, high scoring 2017s to trade customers on Monday 9th December.
Hutton Vale Farm, Eden Valley - 100% Shiraz
98 Points - Joe Czerwinski (RobertParker.com) "The star of this year's lineup is the 2017 Lamella Shiraz, sourced from a single dry-grown Eden Valley vineyard in the vicinity of Henscke's Mount Edelstone and Hill of Grace vineyards. It shows a healthy dusting of cracked peppery and dried spices but also layers of red and blue fruit and savory notes of black olives and espresso. Full-bodied and silky but taut, it ideally needs another 2-3 years of cellaring to soften the tannins on the long, dusty finish."
98-100 Points - Stuart McCloskey "Even at this stage, the '17 Lamella is spectacular and bursts from the glass with an intoxicating and heady mix of pen ink, lilac flower, violets, cassis liqueur and liquorice with the faintest whiff of nori. The palate is full-bodied, ineffably complete with an overall mouthfeel akin to velvet - juicy with a super-lavish, creamy texture. The fruit component comes across cool and clearly handled sensitively. Layers of fruit wash across my palate. With aeration (4-5 hours) the dark fruits meld with wood smoke and dried herbs – ever changing in the glass. The tannins are virtually unnoticeable, as is the oak which is quite extraordinary. Granted, this wine offers an entire day of immediate pleasure, but it will be perfect in a decade. I cannot wait to see how this evolves over the coming years. Utterly magnificent and a privilege to sample such a remarkable Aussie masterpiece. Breathtaking in its infancy… Decanted for 4-5 hours and sampled using Zalto Bordeaux Glassware"
Hongell Family Vineyard, Krondorf - 98% Shiraz 2% Viognier
97 Points - Joe Czerwinski (RobertParker.com) "Standish's 2017 The Relic Shiraz-Viognier includes 2% Viognier, just enough to soften the wine's considerable tannins and add a floral element on the nose. Gorgeous scents of brambly blackberries and anise lead into a wine that's full-bodied and plush, long and silky, adding hints of cocoa and espresso on the finish."
£64.95 per bottle
Roennfeldt Road, Marananga - 100% Shiraz
96 Points - Joe Czerwinski (RobertParker.com) "Mulberries and blueberries appear alongside a hint of white pepper on the nose of Standish's 2017 The Schubert Theorem Shiraz, sourced from Marananga. It's full-bodied, firm and structured, loaded with mixed berries and balanced by savory undercurrents of espresso and black olive. It finishes long and mouthwatering yet also dusty and tannic. Give it another 2-3 years in the cellar and drink it over the following decade or so."
99-100 Points - Stuart McCloskey "An extraordinary colour ranging from midnight black to a rim of purple. The nose is intoxicating and utterly beguiling with lavender, violets, vanilla, coal, cold stone, ink, iron ore and graphite. The palate is full-bodied, richly structured, incredibly layered and beautifully defined - The Château Latour of Australia as this befits 'the iron fist in a velvet glove' perfectly. It's quite extraordinary how a wine of such scale and age is so harmonious. The flavour profile and length are unending. The texture silken. The sweet entry finding its way to an iron ore and salty finish is fascinating (my last sip offered coffee notes). It is easy to understand why this was wine of the day (a difficult achievement given the calibre of the room). One of Australia's immortal wines which has the potential to outlive most of us. Remarkable. Decanted for 2 hours and served using Zalto's Bordeaux Glassware."
£64.95 per bottle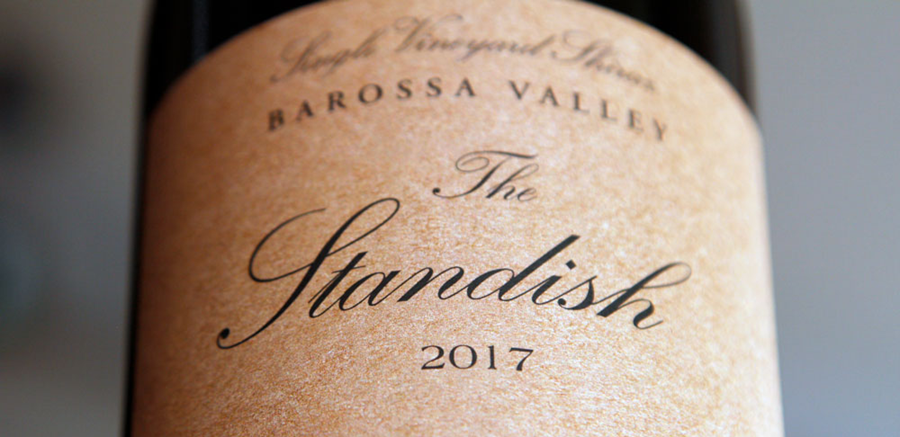 Laycock Family Vineyard, Parbs Road, Greenock - 100% Shiraz
96 Points - Joe Czerwinski (RobertParker.com) "Lifted, herbal notes of mint, thyme and sage appear on the nose of the 2017 The Standish Shiraz. They're followed by waves of raspberries and more raspberries, fleshing out the full-bodied palate and lingering onto the long, silky finish, where they're joined by savory roasted-meat and espresso notes. While almost approachable now, a few years in the cellar surely wouldn't hurt."
98+/99 Points Stuart McCloskey "Despite the huge reviews for the 2016, I personally prefer the 2017. In fact, I would declare all 2017 Standish wines superb and more to my liking. The 'The Standish' Shiraz is made from fruit farmed by the Laycock family in the Greenock sub-region of the Barossa Valley. Earlier releases from the now extinct Andelmonde and Borne Bollene came from this site – How wonderful would it be to see their return. Tell-tale Standish nose of pen ink, lead pencil, iron ore, graphite, warm earth, violets, dark plum and vanilla. Unbelievably harmonious for such a young wine – Seamless and graceful with satin-like tannins. The palate is sweet with black raspberry liquor, spice and offers a touch of relief with a core of crushed rocks. More and more notes build with time. It's almost a life-long journey of an ever-changing scenery. At the risk of sounding like a broken record, this is another stunning wine from Dan Standish. Decanted for 4 hours and served using Zalto Bordeaux glassware."
£64.95 per bottle
Your Corporate requirements taken care of by The Vinorium
We are proud to offer an eclectic range of products and first-class customer service.
Why not let us take care of your corporate requirements? As the leading specialist wine merchant in the UK, you can rest assured that your staff, clients and all those you wish to thank this Christmas, will receive a unique gift of vinous discovery.
The choice is vast – from our carefully curated gift sets, to the finest handblown glassware, along with the freedom of selecting individual wines. We are able to provide a helping hand as we tailor and customise gift choices to each and every request.
Let us take care of your requirements this year
in a few simple steps:
1. Tell us what you have in mind…
• The number of gifts
• The preference of the wine style
• The budget you wish to dedicate
2. We will revert with tailored gift solutions for your consideration.
3. Your chosen gifts will be carefully packed and sent directly to all those you wish to thank and present a gift of appreciation…
• Our team will ensure all logistics are taken care of
• We ship with express next-day delivery as standard
• We will always include your personalised gift messages
4. No order is to small or too large…
We deliver anywhere in the UK, Europe and further afield.
Express next-day delivery available for Mainland UK and 48 hours delivery
to Scottish Highlands & Islands, Ireland and Europe.
Online Orders:
With delivery certainty in mind, please place your order(s)
by 3:00pm Thursday 19 December.
Emergency online orders: 12:00 noon Friday 20 December.
Weekend Shop &
Christmas Opening Hours
Saturday December 14 - 10:00am to 4:00pm
Saturday December 21 - 9:00am to 5:00pm
December 23 - 9:00am to 5:00pm
Christmas Eve - from 9:00am to 2:00pm
HQ Christmas Hours
(These differ from our shop opening hours)
Our HQ will close from 5:00pm Friday 20 December returning 2 January 2020 (*Telephones & emails will not be staffed during this period).
European Deliveries
• Cut off across Europe for a pre-Christmas delivery is Monday 16th December at 3pm. Your order must be received by 3pm for same day shipping.
• We will continue shipping orders placed after 3pm on Monday 16th December however, these are NOT guaranteed to arrive pre-Christmas.