Our final orders have left our warehouses and much of our team are enjoying a long and well-deserved Christmas break with their families. Magda and I are manning our wine shop until 6:00pm this evening. Fizz is being poured if you care to join us…
2018 has been another record-breaking year which would not have been possible without your continued friendship, generosity and loyalty. I would like to raise a glass to all of you; to all the laughter, the late nights I have shared with you and the groggy early mornings; to the memories, now at rest and happiness within. For these are all the moments which the glass holds, dear to my heart.
From The Vinorium, across the world, I raise my glass to wish you a very special Christmas and may this festival bring abundant joy, good health and much happiness.
Stu
And my special team
Magdalena, Michelle, James, Jody & Natalie....
Christmas messages from our
brilliant wine producers
Christmas is one of the busiest times of year for us at Devotus! With the southern hemisphere summer kicking into gear, there is so much happening in the vineyard and so much work to be done as the season moves ahead very quickly. Spring (September to November in New Zealand) brings a nice combination of warmer soil temperatures with some rain, the perfect growing conditions for the vines. In the 3 months from "budburst" in early September to November the shoots on the vines go from being little furry buds (5mm in diameter) to long green shoots over 1 meter in length. When December arrives we are faced with a forest of green shoots (or "canes") in the vineyard that must be neatly trained, organised into growing straight-up, and clipped into place on their training wires. Not to mention the heat, which really arrives in December, and creates high humidity within the vineyard. At Devotus we run our vineyard in an organic mode. So no nasty systemic chemicals, sprays or herbicides on our healthy Pinot Noir vines. The humidity in December really challenges us, as this is when disease (powdery mildew) pressure is at its maximum, and weed seeds germinate and attempt to take over the entire vineyard! We have a "prevention is better than cure" mindset, so will be pre-emptively removing all the leaves, all done by hand, around the bunches of grapes (to improve air-flow around the bunches and remove the risk of any humidity build-up). Weeding under the vine must also be done, not chemically, but mechanically, in my case using my old Massey Ferguson tractor (made in England in 1966) with a specially attached under-vine cultivator to scratch out the weeds before they establish and compete with the vine for nutrients.
All this work in December means we have to plan well ahead to ensure we have family fun on Christmas Day. With our two boys growing up fast (Mac 6 and Zen 5) the excitement has started already and there are very high expectations on what Father Christmas will be bringing this year. Luckily new bikes are on the wishlist! This will be the perfect present to keep them happy on the vineyard. They spend all day every day making the most of the outdoors here, whatever the weather, enjoying and eventually destroying anything with wheels… so new bikes would provide endless fun (with the least parental involvement possible)! Valerie and I are just happy that day to be sitting on the deck, watching the boys and chatting with a degustation of local seafood and if very lucky, tasting from our cellared presents… possibly that will include a Chassagne-Montrachet that we have been saving...
In 2018 I'm breaking the Dredge family tradition by having my first family Xmas at home in Hobart, Tasmania with my partner Ella and our children Harriet (2 years) and Rory (8 months).
There will be traditional Xmas ham and turkey and the like but in picnic format, most likely at the local Botanic gardens. Wine wise Chablis, German Riesling and some of the year's swaps from friends/vignerons will be around. We tend to do this throughout the year. Nocturne, Joshua Cooper, Holyman, Timo Mayer and Mac Forbes to name a few. I'll decide on what to take on the day.
For New Years, Dr edge will be swept up in the Sydney to Hobart yacht race. The Hobart 'Taste Festival,' is on for seven days welcoming tourists and sailors from the yacht race. A huge event. I'm building a caravan called 'paradise island,' showing food from many Caribbean coasts cooked by a couple of friends who are accomplished chefs, matched with Dr Edge and my other venture called 'Project Brian,' wines. It's a seven day festival with myself and the chefs and a couple casual staff serving up whilst spinning through our vinyl collections on turntables and speakers sitting between the bar and kitchen. It's gonna be fun.
Then we'll look forward to veraison, tweaking canopy and harvest for late February early March 2019.
Thank you all for supporting DrEdge on his first venture to the UK. I hope you enjoy the wines and have a merry merry Xmas.
Christmas for me is usually spent at home with my partner Janice, her mum, and Azzy. I do catch up with my mum and sister, but that is usually in Perth prior to Christmas.
We usually get up early, and take the dog for a walk down at the beach. We figure we will have the beach to ourselves, as everyone else is at home opening the presents. Then home for a nice breakfast.
Alas, vineyards are not particularly religious, and do not have festive season holidays, so we do spend a few hours in the vineyard late in the morning. Then a proper Christmas lunch and present opening, and the afternoon relaxing. We then have to work ourselves up for dinner.
Special drinks???? – we would certainly start with Champagne at lunch, and then perhaps a Flowstone Sauvignon Blanc, and maybe then move on to a Pinot Noir. The evening meal with have some more substantial wines, but will still start with Champagne. Following that I would delve into the cellar, and potentially come up with a good Condrieu (Vernay), then an aged Gran Riserva Rioja (Remelluri), and finish with a Vintage Port – maybe one of my last few 1994 Warres. After that, a big lie down….
…and I do wish all the Vinorium customers and staff a fantastic Christmas, and a great New Year. It is going to be a good one….and I haven't even mentioned Brexit...
Very much looking forward to the Christmas / New Year break. We've been super busy this year installing our winery (after 10-years of borrowing other winemakers cellars) and planting our 12ha vineyard in the Coal River Valley.
A traditional Aussie winemaker Christmas always includes sparkling shiraz (colloquially known as sparkling burgundy). This year we're also celebrating my winemaker father Colin's 70th birthday on the 25th, so I've sought far and wide to track down an '04 bottle of Krug Clos du Mesnil. We'll be drinking these with steamed mud crabs up in Pt Douglas in tropical North Queensland, most likely bookended with Tasmanian gin and tonics and Chablis.
My wife and I will be welcoming our 3rd child in early 2019, just before our harvest. It's going to be a very peaceful year.
While I enjoy a few Italian lagers by the pool over the season I'll spare a couple of thoughts for you, my Northern Hemisphere brethren. You will have the perfect weather for Tasmanian pinot by the fireplace or next to the turkey. My tasting notes often include cinnamon, clove, pfeffernusse and plum.
Cheers, Nick
Xmas and new year is always looked forward too at GBW , we close the winery down for a couple of weeks and take a well-earned rest before our minds turn to 2019 vintage and a very hectic but exciting 3 months. Summers holidays over this period is a bit of an Aussie tradition & most of us find a beach somewhere, lots of cold Riesling, juicy Grenache & the odd beer!
Xmas day is always a great excuse to open some nice wines, I generally raid the cellar once I know what the weather holds, we do need to be a little flexible with our wine selection , Barossa Xmas temperatures can range from 20 degrees C to 40 degrees C, no big reds on those warm days. Two wines from our range that are always a staple on our table, The Holy Trinity, so versatile and everybody loves the wine, always a few bottles of chilled Sparkling Red, a must with the turkey .
We have many cool things planned for 2019. We of course have the new harvest in front of us, always an exciting time but also with a touch of nerviness, mother nature determines so much of the quality over the next two months so we hope for suitable weather, no to hot and no major rain events, don't want much do we!
We had a fabulous 2018 vintage so 2019 will also be focused on fine tuning these wines and getting them into bottle, we have some brilliant Barossa Cabernet & Shiraz in barrel at the moment & can't wait to show these off later in the year.
Drink well, stay safe & enjoy the moment.
Leading into the festive season, it is a hive of activity at Hentley Farm – there is a definite count-down to the Christmas period, with people keen to stock up their cellars in readiness for the celebrations throughout the holiday season. Bottling, labelling, packaging and dispatch on our site, have all hands on deck!
And all the while, surrounding this hub of busy winery life, are the vines that are sprouting and starting to bear fruit, ready for the warmer months to ripen the berries for the 2019 vintage. Whilst the rolling hills amongst our landscape have already dried with just a taste of the warmer weather ahead, the vineyard is an oasis of supple green foliage, offering a canopy to nurture the young berries throughout their growth and ripening.
Cellar Door is open each day introducing many visitors to the very Barossan tradition of relishing a Sparkling Shiraz during the festive period,
Any special wines you will be opening at home?
Hentley farm 2010 Sparkling Black Beauty Shiraz as well as a 2005 vintage of Clos Otto
Any Christmas traditions that you like to follow?
South Australian Crayfish with Champagne for Christmas breakfast
And finally any Plans for 2019?
Build a new wine makers blending room which our customers can also enjoy and plant a few more vines on our remaining bare land.
In terms of Christmas traditions, at Kaesler the last Friday before the school holidays (for those colleagues with kids) we down tools at midday and have a long lunch – everyone in the winery and vineyard together. Let's just say "we enjoy the fruit of our labour" in a very literal sense. Responsibly of course.

In terms of a message to your customers, of course thank them for their continued support. Worth highlighting is that this year's vintage was exceptional so 2018 Barossa wines will be worth looking out for when we release them in 2020-2021. Best vintage in 10 years. 2019 will be reduced yield due to frost, but the concentration is going to be superb. I apologise this isn't written up as nicely and a bit of a ramble, but I hope this sort of thing will do!

Best wishes, Sacha
Merry Christmas from the Kay Brothers team! Whilst the northern hemisphere is dreaming of a white Christmas we're dreaming of a Rosé Christmas.
It's bound to be warm in McLaren Vale during the Festive Season and Grenache Rosé is the perfect wine for the summer months - it seems we can't get enough of this delicious pink wine! Not only is it refreshing and lighter than a red wine, but it still retains the complexity you come to expect from a Kay Brothers wine. It will perfectly match the 'Australian' Christmas seafood feast.
Our 2017 Griffon's Key Grenache is popular year-round, but should definitely have a spot in your Christmas wine rack. This top drop is a pleasure to drink, with alluring aromas of rose petal and dark cherry to bring back memories of Christmas' past. With concentrated fruit flavours of strawberry, raspberries and dark cherries, this Grenache is another perfect accompaniment to your Christmas ham. It just was reviewed by Tyson Stelzer – Wine Business Magazine and scored 96 points "one of Australia's most sophisticated Grenaches achieves even accord between exacting varietal definition".
Christmas time is a special time of year and as we enjoy time with family and friends a 'museum vintage' of Block 6 Shiraz will certainly be one of the precious wines served during celebrations. We recently hosted a Shiraz McLaren Vale master class to UK & EU media and the 2004 vintage was in stunning form. It demonstrated the aging capability of our enduring signature wine superbly. While the rest of the world freezes through the holiday season, in Australia we enjoy the sun, surf and sand.
Thank you for your support - all the best wishes from the Kay Brothers custodians!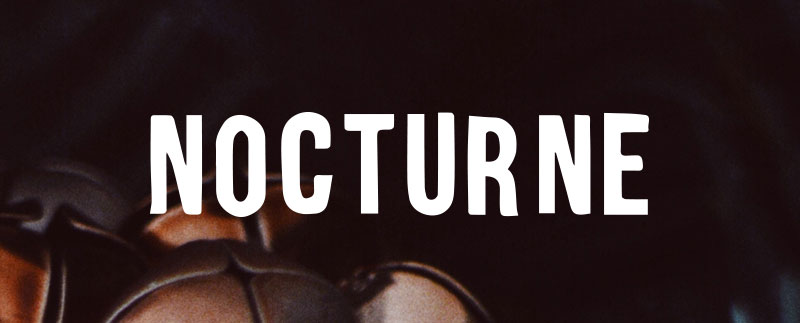 Summer is finally here in WA and we have had some lovely warm days over the last week. Shoot growth has really taken off and fruit set is excellent. We are poised for another excellent vintage here and what better time to celebrate the fabulous year we have had and the promise of the year ahead than with some great wine at Christmas.
We will be heading to Bali for Christmas this year and the humid weather and spicy food will see us drinking some delicious Castle Rock Riesling, Ruinart Champagne and Rodda Chardonnay.
We would like to thank all of the customers that have supported our wine business this year. We are so fortunate to have it on sale in the UK as well as Australia, bringing the Nocturne love to a new demographic of wine buyer! We have a few things up our sleeve for 2019 with the introduction of some new wines.........watch this space.
We wish everyone a fabulous Christmas period and a safe, prosperous new year.
Warm regards, Alana & Julian
Best Wishes and Merry Christmas from down under.
It's currently the calm before the storm at St Hallett, anticipation and excitement as we look forward to the Christmas break with the family. But we are busy greasing bearings and polishing up all the winery equipment in readiness for the fast approaching Vintage. It's also the time to catch up with our growers (about 50 families) and have our annual growers lunch – one of the wines we shared on the day was a magnificent 1994 Imperial of Old Block Shiraz, it was very much alive with soft leather texture – delicious. At the same event the current Butchers Cart Shiraz went down a treat being voted the most popular wine on the day – judging by the sales!.
Our Christmas gift to our staff will include a bottle or two of our Eden Valley Riesling (dry) to enjoy with our local prawns and pacific oysters, the other wine in stocking will be the 2014 Old Block Shiraz a highlight for Christmas Day. For myself and my wife Faith we will travel to Melbourne for Christmas and to hopefully take delivery of an amazing present from our daughter – our first grandchild. That moment will be celebrated with St Hallett Sparking NV Shiraz a favourite tipple of my daughter - she will have earnt it.
To the team at The Vinorium and your customers have a safe and delightful Christmas laced with some great Vino.
Summer at Two Hands is a chance for the team to bask in the sun, celebrate the festive season and cherish family and friends before the madness of vintage kicks off in February. We always begin the holiday break with a long Christmas Lunch with the entire Two Hands team, to reflect on the past year and celebrate success and hard work collectively. It's a small team but are rarely altogether as we're spread in different places; be it in our Barossa vineyards, our warehouse, winery, Cellar Door or office. It's a chance to laugh, eat well, and of course enjoy some very fine wines, both our own and those wines we admire!
After our Christmas Lunch, we close the Two Hands office for two weeks. Most of us escape to the beach to swim, fish and relax and of course enjoy delectable South Australian seafood which is staple fare on most Aussie Christmas tables , as well as Pavlova with summer fruits to counteract the heat. We drink lots of Sparkling, Eden Valley Riesling and bone-dry Barossa Grenache Rose with our seafood, and always have a museum bottle of something special like Bella's Garden or Ares to open with our traditional Christmas Ham. With our 'Pav' or Christmas Pudding with also like to open an aged Rutherglen Muscat.
The vines don't rest during summer so our vineyard team keeps a close eye on the vineyards during this time, monitoring the weather, fruit set and soil moisture content so that the grapes are in optimal condition when vintage commences in early February (depending on the weather). Of course, Christmas in Barossa is a very busy time for people visiting friends and family, so our Cellar Door is open the whole summer holiday period, with the exception of Christmas Day and Boxing Day, to ensure that thirsty visitors are well looked after.
We thank Vinorium for their fabulous support over the last 12 months and we look forward to another fruitful year in 2019.