Issue: 46 / Sunday 4 November, 2018
Written by Stuart McCloskey
Most unexpectedly, we have been shortlisted for the prodigious International Wine & Spirit Competition (IWSC) Trophy for the Independent Wine Retailer of the Year, which we are over the moon with. The competition is incredibly tough and if truth be known, we are not entirely sure what the judges are looking for in the overall winner. Is The Vinorium too specialised to receive the award? We'll find out on the 14 November at the Awards Banquet…
It's been a breathtaking week with much comings and goings. Magda and I spent an afternoon with Grant Burge's chief winemaker, Craig Stansborough, which was thoroughly enjoyable. Personally, this allows me the opportunity to understand the philosophy of the winemaker in more detail and the specific vineyards and areas used for each wine.
The Barossa region consists of two distinct valleys. The Barossa Valley floor is 200-250m above sea level, with rich, red-brown, deep, alluvial soils ideal for red wine grape growing. This contrasts to the higher-altitude Eden Valley at 500m above sea level with rocky, acidic and grey schist soils, ideal for cool-climate viticulture.
The Barossa is, perhaps, a little misjudged when it comes to the perception of wine styles and climates. Granted, wines from this region can be robust and sometimes larger-than-life, which buyers often misconstrue as an indication of a hot region however, the Barossa features cold, wet winters and generous spring rains to set up moisture reserves. During summer and autumn, the weather dries off, providing warm and moderate conditions ideal for ripening grapes.
The majority of Grant Burge's fruit is sourced from the southern half of the Barossa, which has higher rainfall compared to the north. This provides wines with more balance and freshness. The southern soils (rich deep red/brown medium clay/loam and are rich in nutrients with ideal water-holding capacity) play an important, and distinct role in the final wine. Southern Barossa wines generally are focused towards red berry fruit whereas the drier north often produces wines which are rich with big plummy, ripe characters.
Craig was generous with his knowledge and spoke openly of his winemaking aspirations and his personal favourites. He's a big fan of good, red Burgundy however, and at over three hundred dollars a bottle, this has become a rarity as nerves connected to corked bottles outweighs the pleasure. Barolo is another favourite – I believe his number one.
I was keen to understand the lack of white, Rhône varietals in the Barossa. Marsanne and Roussanne are a dream union and would work (viticulturally) perfectly in the Barossa climate.
Craig explained that much of the Viognier was grubbed-up and replanted with Fiano and Montepulciano which are showing favour with the locals. As it stands, there is no demand for Marsanne and Roussanne however, I set the seed and requested a re-think as we would love to see (and would certainly support) these wines. We'll see what develops over the next six to ten years!
Of course, we sampled many wines as we chatted. The 2012 & 2013 Holy Trinity (Grenache, Shiraz & Mourvédre) were delicious. The fruit is predominantly handpicked from old, dry-grown vines which range from 35 to 90 years. Superb wines and outstanding value (I'll revert next week with my full tasting note). The '14 Eden Valley Shiraz was superb – A nose to die for. This wine truly demonstrated how the cooler, higher altitude climate of the Eden Valley translated into a multi-textural, generous wine juxtaposed with balance and lovely sense of harmony. We moved onto their 2014 & '16 Abednego Shiraz, Mourvédre, Grenache, which offered a significant step-up in quality, mouthfeel and overall enjoyment compared to their Holy Trinity. Fruit destined for Abednego is sourced from vines with more than 100 years of age. The old vines deliver fruit with incredible concentration and depth giving the resultant wine the ability to develop over many years. Production of this wine is tiny however, we will be receiving a small allocation next year.
We moved onto the 2015 Nebu Cabernet Sauvignon, which is the latest addition to the Icon range of super-premium reds. Fruit for Nebu is sourced from vines up to 120 years of age. The label states Cabernet Sauvignon however, Shiraz plays a substantial role in the blend. Very delicious however, not a patch on my favourite wine of the day, the 2010 Shadrach Cabernet Sauvignon which was simply spellbinding. Shadrach is Grant Burge's flagship super-premium Cabernet Sauvignon and is sourced from the Corryton Park vineyard, high in the cool-climate Eden Valley in the Barossa Ranges. I will be sharing my full tasting note next week – Buy it!
We moved onto the 98-point Meshach, their iconic (century old) Shiraz which has a strong, global demand. Craig explained that the 2012 vintage provided exceptional conditions throughout the entire growing season. Good winter rains laid the foundation for a perfect spring, with mild and dry weather along with cool nights throughout vintage producing perfect ripening conditions. The entire winemaking team believe the 2012 vintage is one of the best they have ever experienced. We have a little treat instore with a fab offer (see below).
We finished a memorable tasting with a super-delicious PX (Pedro Ximénez) style wine which has been awarded two 2 Trophies, 5 Gold Medals and Best Fortified Wine at the Barossa Wine Show and National Wine Show of Australia. Superb in a word!
Grant Burge Meshach Shiraz 2012
98 Points - James Halliday "The 22nd release of Meshach celebrates the great '12 Barossa Valley vintage. The colour is still deep crimson-purple, setting the pattern for the bouquet and palate to follow. A wine of the highest quality in the Olympian class of Barossa Valley shiraz, seamless, calmly powerful and perfectly balanced. Black fruits dominate, but this is no one-dimensional power play, with hints of licorice, bitter chocolate and graphite. The tannins and oak contributions are perfectly
placed and paced."
£226.95 per case (6x75cl OWC) In Bond
Nearest World Price
£400.00 IB per case (6x75cl)
Grant Burge Shadrach Cabernet Sauvignon 2009
James Halliday 'Barrel and bottle ageing has led to the first stages of colour change; overall this cabernet sauvignon has remarkable synergy to its flavour, structure and texture inputs, resulting in a supple, ultra-smooth and beautifully balanced exercise in
blackcurrant/cassis fruit."
£44.95 per bottle
or
£211.80 per case (6x75cl) In Bond
Best Price in the World Market
Grant Burge Shadrach Cabernet Sauvignon 2010
James Halliday "Dense colour; it's a full-bodied version of a full-bodied Shadrach; it's not hard to guess why it hasn't been previously released, and even now it's barely ready. But its blackcurrant fruit is varietal, the tannins are balanced,
and the oak is integrated."
£40.50 per bottle
or
£189.55 per case (6x75cl) In Bond
​Best Price in the World Market
Grant Burge The Holy Trinity GSM 2013
£18.95 per bottle
or
£81.80 per case (6x75cl) In Bond
Wine of the Week
The Simply Stunning Ma Masion
Leung Estate Ma Maison Pinot Noir 2015
98 Points - Stuart McCloskey "An incredibly exciting wine from the boutique winery based in Martinborough. Dark, brooding with a wonderful perfume - full of the aromas of Autumn. Damson, cinnamon, spice and a touch of woodsmoke. The palate exudes intense, luscious and concentrated flavours of sweet, ripe damson, plum, spiced cherry and black fruits. The quality of the fruit enriches the fleshy mouthfeel which is so satisfying and moreish. Lots of drive and energy too. The texture is luxurious and balanced perfectly with fine-grained supporting tannins. A superb wine which flows seamlessly and lasts on the palate forever. Just beautiful" Zalto Burgundy glass is a must!
Viticulture & Winemaking: There are eight clones of Pinot Noir in the vineyard. They are close planted and have a low fruiting wire, giving very small vines which produce intensely flavoured fruit. Most clones are harvested and fermented separately, except for 15 rows that contain a mixture of the Dijon clones that are treated as one parcel and co-ferment for added complexity.
Contrary to October being the calm before the Christmas storm, we have shipped a staggering amount of wine from our warehouses. Some producers have become 'critical' as sales have exceeded our expectations or allocations. On the danger list; Dan Standish's 99 point 'Lamella' has sold-out under bond. Only 34 bottles remain in our HQ shop. Thankfully, we purchased a further 576 bottles of Dan's The Relic & The Standish, which arrive in the UK week of the 12 November. Sales for both wines have been incredibly strong on the back of the Parker.com scores (both wines also received 99 points). This week, 67 cases have been sold whilst the wine is still on the water!
Twenty-five wines sold-out over the past month including 1747 bottles of 2003 & 2004 Henry's Drive Shiraz and 3553 bottles of 2002 & 2003 Torbreck The Steading. We are very close to selling out completely – Only 115 bottles (of mixed Steading vintages) remain, which and at the current rate, will not see Christmas! The wonderfully mature Henschke collection is teetering on extinction too – I shall certainly pinch a few bottles as these are some of my all-time favourites.
As expected, the majority of our Zippy's Block collection which arrived recently, has sold-out however, our many 'new' wines from Two Hands will be arriving in the UK during the week of 17 December. It's a similar story with Kay Brothers – 2005 & 2007 Block 6 Shiraz has now sold out. A few bottles of the 2006 remain and a touch more 2003. All mature vintages of 'Hillside' have now sold-out but, we do have all their new wines / vintages arriving with our Two Hands shipment.
We thought we would share a few info-graphical statistics with you. One, they show the sheer number of bottles sold during what is normally a quiet period and secondly, the dominance of Australia, which is quite staggering.
Statistics: August to October
AUSTRALIA SALES BY GRAPE VARIETY(S)
NEW ZEALAND SALES BY GRAPE VARIETY(S)
AMERICAS SALES BY GRAPE VARIETY(S)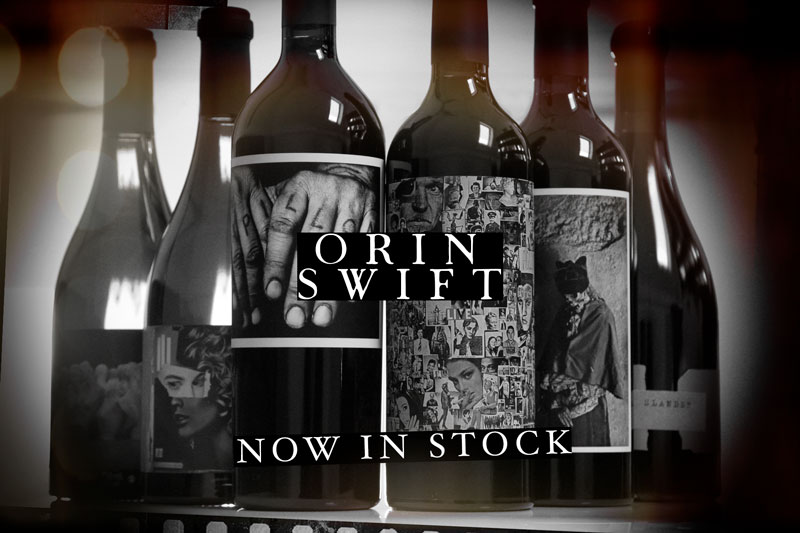 "His Midas touch with grapes from seemingly anywhere in the world, is unusual, but the brilliance of the wines, his creativeness and unparalleled blending talents have built an incredible portfolio…people looking for personality filled wines of considerable character and complexity need to check out the Orin Swift offerings." -
Robert Parker
The Vinorium's mantra: We continual seek-out and replace what has been sold… For the first time, St Hallet joins our offerings including their flagship wine, Old Block Shiraz which is produced from ancient, 100 hundred-year-old vines. The Blackwell Shiraz is superbly crafted. Each parcel of Shiraz is individually matched to one of a selection of American oak barrels in which the wine spends two years maturing and gaining considerable texture and power prior to release.
The McLaren Vale producer, Reynella also joins our line-up for the first time although, my appreciation of their wines goes back many, many years. Superbly crafted using basket presses and open fermenters to produce wines that are acclaimed and a tribute to the brands heritage (first vintage in 1842).
As ever, we introduce both producers' wines with keen prices!
St Hallet Blackwell
Shiraz 2015
95 Points - James Halliday "From Ebenezer, Seppeltsfield and Greenock vineyards, fermented on skins for 8-12 days, matured in American oak. I assume Stuart Blackwell kept a close watch on the grape selection and vinification of this wine, and claim responsibility for its quality. Black fruits in profusion embrace the scaffold of ripe tannins and American oak to display their wares."
£20.50 per bottle
or
£89.55 per case (6x75cl) In Bond
St Hallet Old Block
Shiraz 2014
97 Points - James Halliday "Average vine age 88 years, hand-picked, a combination of open and tank fermentation, some whole bunches included, matured in French oak. A masterpiece created from ancient vines and the continuing skilled winemaking team at St Hallett. This is elegance of the highest degree, with medium-bodied, supple red and black fruits flowing along the prodigiously long palate and aftertaste, the use of French
oak the key."
£32.50 per bottle
or
£149.55 per case (6x75cl) In Bond
Petaluma Yellow Label B&V Adelaide Hills Shiraz 2015
96 Points - James Halliday "Hand-picked, 14 days on skins, 20 months in French barriques and hogsheads (72% new). Good depth to the colour; a powerful, medium to full-bodied shiraz expressing place, variety and vinification to maximum benefit. The black cherry and satsuma plum fruit has the usual cool grown exotic spices, and the tannins do their job to perfection."
£24.95 per bottle
or
£101.80 per case (6x75cl) In Bond
Petaluma Tiers Chardonnay 2016
97 Points - James Halliday "The wine lives up to its reputation as one of Australia's greatest chardonnays, and you wonder why it isn't more frequently mentioned in dispatches. The answer is at least partly due to the very small amounts judged by Petaluma to be up to the strict standards set. Grapefruit leads the superb flavours of the palate, white peach in close attendance. The acidity is precise, the oak merely a
means to an end."
£24.95 per bottle
or
£105.00 per case (6x75cl) In Bond
Reynella Basket Pressed Shiraz 2013
96 Points - James Halliday "Small open fermenters, hydraulic-plunged, basket-pressed, matured in French barriques for 16 months. The dense colour attests to the quality of the fruit and the intelligent winemaking (in a state of the art winery); it manages to combine richness with finesse, a gin-clear sense of place, and a lightness of foot aided by the controlled alcohol and superfine tannins."
Reynella Basket Pressed Shiraz 2014
96 Points - James Halliday "This is Rolls Royce stuff from a big company made exactly as it might be from a small producer. It's open-fermented with precise plunging automated by the winemakers with the push of a button, and then put in 100% new French oak for 15 months. Lead me to Hermitage in the Rhone Valley and I'll find its brother."
£22.55 per bottle
or
£99.80 per case (6x75cl) In Bond
Reynella Basket Pressed Shiraz 2015
97 Points - James Halliday "Hand-picked, open-fermented with pneumatic plunging, pressed by the century-old basket press, matured in French oak (30% new). Deep but brilliant crimson-purple; takes complexity onto another level with black fruits, dark earthy notes, bitter 70% cacao chocolate, black pepper and cedary oak all held in a wickerwork of ripe, insistent tannins. This will never chuck the towel in."
£22.95 per bottle
or
£101.80 per case (6x75cl) In Bond