Australia

Chardonnay

ABV 13

Zalto Denk'Art Burgundy Glass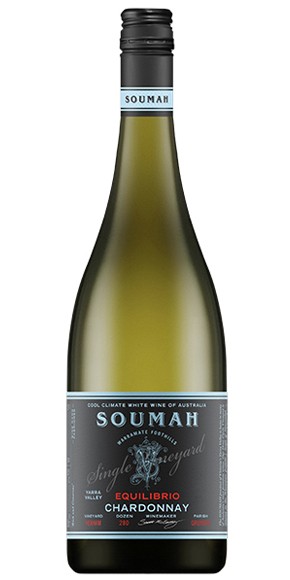 Decanter World Wine Awards 'Best in Show' 2020
97 Points - Decanter "Among all of the different regions where Chardonnay has impressed in Australia, the Yarra is perhaps the one where the fruit itself charms most readily from the off. This steel-green wine carries its oak very lightly, and the fruit sings out: nectarine, peach and dessert apple all draw the drinker into the glass. On the palate, the wine is soft, tender, almost juicy: its perfect ripeness apparent in that limpidity of expression, and in the seamless incorporation of vibrant and rounded acidity into a natural and succulent poise. The oak, once again, is almost invisible: a swelling of tone rather than flavour. The only danger with deliciousness of this order is that you might be tempted to drink it all too quickly. Fine quality raw materials suggest there's no hurry here."
98 Points - Stuart McCloskey "The concept behind Soumah's Equilibrio range is to promote the very best barrels, clonal mix and new oak integration to create a few cases that will benchmark the potential of each vintage. The nose is steely, full of freshness and is signing from the rooftops with waves of energy. The palate is brooding, sensual and perfectly made. Mineral and cool climate influences. Incredibly pure with super clean citrus at its centre. Very Burgundian but with a charm all of its own. The step up in quality is abundantly clear. Sophisticated. Salted citrus on the incredibly long finish compliments the creamy oak overlay. Do not overchill and decant for 20-30 minutes. Drinking now to 2030. Bottle age will reward those who are patient."
Soumah Equilibrio Chardonnay 2018
We find this hidden gem located down a country lane, in the dress circle of the Warramate foothills of Gruyere.
It is from here that Soumah set out to make wine with the charm of northern Italy but the provenance of the majestic Yarra Valley.
Unravelling the story behind the exotically named Soumah, it is in fact an abbreviation of South of Maroondah, hinting at its location in the heart of Yarra Valley. Their wines however are far from exotic and instead they brim with the cool climate character and provenance of the majestic Yarra Valley. The perfect state of balance, calmness and composure of Soumah wines are expressed across the range, with the flagship wines receiving the graceful name 'Equilibrio'.
The global press wax lyrical with strings of medals including the Decanter Gold winning Equilibrio Chardonnay and Decanter Platinum Equilibrio Pinot Noir.
"If I had to provide a brief statement to describe their wines – I would state, they are truly splendid and offer compelling drinking without the need to stress one's wallet. From bottom to top, I believe these to be perfectly tuned with a satisfaction level of 100/100. They are not 'pretenders' and overdeliver with pure energy. The winemaking is skilful and the fruit, pure and natural. All in all, Soumah offer great drinking at affordable prices." - Stuart McCloskey
Read less
In Bond
Welcome to our In Bond wine selection which shows wines available under bond only. Prices are marked as:
In Bond: Exclude UK Duty and VAT, and can either be delivered to a UK bonded warehouse in the UK, or released for international delivery.
Duty Paid: UK Duty @ £26.78 per 9 litres and VAT @ 20% has been paid.
Wines are only available in whole, unmixed cases unless otherwise stated.
In Bond Wine Storage* Important - Please Read *Storage charges are per 9 litre case per year; £11.95 ex VAT and inclusive of full insurance. All under bond wines are stored within London City Bond, Eton Park (formerly Vinotheque) in secure and temperature controlled storage facilities. To find out more about under bond storage with us, click here.
DeliveriesIn Bond (IB) wines can be stored, transferred to other bonded warehouses or released for international delivery.
Alternatively, use our home delivery service by simply switching to Duty Paid during the checkout. Duty, VAT and delivery charges will be applied.
International OrdersWe ship wines globally however, and for your ease, please contact our fine wine team who will assist you with delivery options: enquiries@thevinorium.co.uk
Your enquiry will be answered immediately (Monday – Friday 9:00am to 5:00pm)